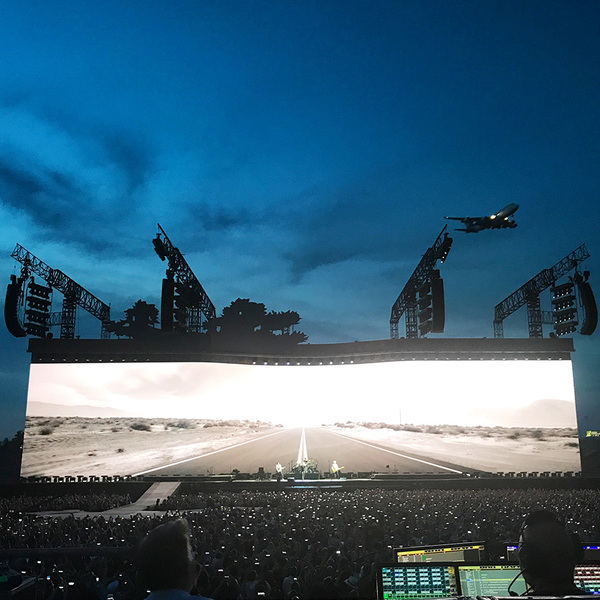 'We Get To Carry Each Other'
Children often grow up listening to the music of their parents and Dorothy Day Dark, 17, was no exception. She grew up listening to U2, the band her father was into. Daughter and Dad were at Bonnaroo a couple of weeks ago and covered it for MTV. Then they drove from Nashville to Louisville at the weekend, and Dorothy wrote about it for us.
Here's the complete set list from Louisville.

'My father and I go way back when it comes to U2. He says they taught him to love the world and that he can't quite explain himself to himself apart from the gift their work has been. I'm told that, as an infant, I would smile strangely and inexplicably whenever "Where The Streets Have No Name" came on the car speakers. And for as long as I can remember, my questions about particular lyrics have led to long conversations about anything and everything: Martin Luther King Jr., Jesus' temptation in the wilderness, Nelson Mandela, and nonviolent resistance.

So beholding them, as close as we could get, at Bonnaroo was a very big deal. As we stood mere feet away from the What Stage, my father placed a hand on my shoulder and gave me a warning, "Now you know… they're not as young as they used to be." We also had the feeling that, given the fact that this was a rare festival appearance, this might be a tougher crowd than they're used to. Before I could respond with any words, our conversation was interrupted by "The Whole of the Moon" by the Waterboys. By all appearances, we were the only two people who knew and sang all the words.

As the song ended, Bono made his entrance to the distinct beat of "Sunday Bloody Sunday". We immediately felt a part of things ("We can be as one tonight"), and I experienced a deep sense of pride in a man who, despite years of performing to a world that isn't always listening, still gives his all to an audience that won't always give him the same. As the first song continued and they repeated "How long, how long must we sing this song?" the tears finally come, because I have been singing his songs since I was first able to speak, and my father has been singing them since before that, and it's still so necessary that U2 keeps singing, that we all keep singing with them.

I get the feeling nothing's changed and that the energy that goes into these songs they truly believe in communicates the same power they channeled when they first came together as friends who loved music forty years ago. With that energy comes inspiration to keep on with our best, most loving selves, despite the passage of time. They're making a case, auditioning for the right to be heard all over again. We see, toward the end of set, Bono raise a finger to the Edge, between songs, to let him know he needs to take a moment to regain the energy he's thrown at his audience. We get the feeling that their work is our work too. As they've reminded us all along, we get to carry each other.
The very next weekend, we're off to see the full Joshua Tree show in Louisville. While Manchester maybe opened a little more fragile and tenuous, a band asserting themselves to a generation not yet convinced, this felt more like a victory lap, no holds barred, an undying effort these men will always put into their art, because they aren't just performing these songs; they believe them. We do too.

U2 is still sounding out the cry to action they've maintained their entire adult lives. Maybe it's because they genuinely love doing it, but I tend to think that they keep on because it's a cry that sustains them. As footage from the Zaatari Refugee Camp in Jordan is played on the backdrop during "Miss Sarajevo," we're addressed by a fifteen-year-old named Omaima Thaer Hoshani, and it's as if the world is reconfigured before us. From one side of the stadium, we find ourselves passing a giant sheet upon which Omaima's face is emblazoned and illuminated by a light that stays trained upon her as we pass it over our heads. "Hold her up!" Bono exclaims, She wants to come to America!...You're incredible America. Incredible people."

I almost laugh at this, because it feels so untrue. Not always, but right now it does. But here's U2 reminding us of our better angels with word, song, and image. We need these visual aids to remember who our neighbors are, what our tax dollars do and don't do, what our responsibilities might yet be. We need artists who are willing to sing and ask not only what kind of love the audience can give for victims of violence in London and Manchester, but also places like Kabul, where tragedies often don't make the headlines.

And with the unexpected graciousness we've come to expect, Bono dedicates Joshua Tree's "One Tree Hill" to the currently hospitalized Republican Congressman Steve Scalise while celebrating the courage of his fellow survivor of gun violence, the former Democratic Congresswoman Gabby Giffords. Over and over again, U2 undertake the good work of breaking down those imaginary yet sturdy boundaries that separate us from one another. Whatever the chaos of the latest news cycle, U2 takes it on and invites us to join them. As Bono exclaims, "We don't agonize. We organize. And that's how change comes. Is that not right, The Edge?" Indeed it is. And change feels all the more in reach thanks to the steady and sustaining force U2 remains in our world, to my father's generation and my own.

We're you at the show in Louisville? Tell us what it was like. Add your own review and photos on our tour pages.