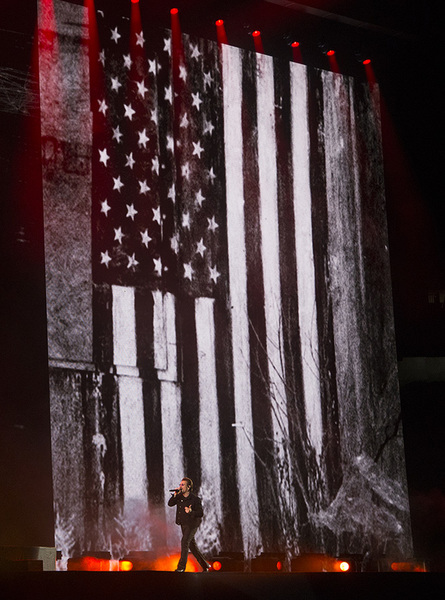 When & Where
Tuesday, September 19th 2017, University of Phoenix Stadium, Phoenix, Arizona; the 39th show of the #U2TheJoshuaTree2017

Set List
'Is there a time to turn to Mecca, is there a time to be a beauty queen…' The band's return to Phoenix marked the penultimate show of the second North American leg of The Joshua Tree 2017 tour and saw the return of Omaima and 'Miss Sarajevo' (aka 'Miss Syria') to the Third Act - the first time the song has been performed on this leg. Filmmaker Bill Carter, director of the 1995 documentary Miss Sarajevo, was in the house Tuesday night. Carter, who teaches journalism and film at Northern Arizona University, became acquainted with Bono as a humanitarian aid worker in Bosnia during the Balkan conflict, and provided video segments beamed to concerts around the world from war-torn Bosnia during the Zoo TV tour. Carter was instrumental in bringing the band to Sarajevo for their historic performance on September 23, 1997 during the PopMart Tour. The band's eponymous song 'Miss Sarajevo' was written for the soundtrack to Carter's film. 'You're The Best Thing About Me,' the first single off of the forthcoming album 'Songs of Experience', also joined the encore, making its fourth appearance of the tour.

Here's the complete set list from Phoenix

Social Posts
@HerzensSonne22: 'I know we're not a hopeless case. Beautiful day. Beautiful people. Beautiful hearts. #U2TheJoshuaTree2017 #U2 @U2'

@cvizzer99: '30 years since U2 began The Joshua Tree tour in AZ. They're still delivering the best. What a great show, #25. #U2TheJoshuaTree2017'

If You Had To Pick One Song
Vertigo. 'It's everything I wish I didn't know/Except you give me something I can feel, feel…' @myottername: 'My fave part of #U2 concert in Phoenix tonight: Larry Mullin Jr turns around, looks at the camera and mouths the words, "I BELIEVE in YOU."'

During 'Vertigo' Bono asked the packed arena to sing for one of Phoenix's hometown heroes, Jerry Mele - U2's former security chief who passed away in April 2016. Mele was the band's security lead from 1989 to 1997.

What (else) did Bono Say?
During the introduction to 'One', Bono extolled the virtues of America, reminding the audience that it's not just a country, but an idea: 'It's an idea that needs encouragement sometimes, that needs protection sometimes,' he said. 'Because a country built on hope cannot be driven by fear, am I right? And a country founded on equality cannot allow hate to pull it apart, are we right? We all have a stake in this beautiful idea of America. And we have a responsibility to work for that promise.'

Bono ended 'One', which closed the show, with a snippet from the band's 'Drowning Man,' tweaking the lyrics a bit in tribute to Mexico City, which endured a 7.4 magnitude earthquake Tuesday afternoon. 'Don't let go, Mexico! Viva Mexico!' he sang, and added, 'Our prayers are with Mexico City tonight!' The band are scheduled to play two shows in Mexico City's Foro Sol stadium on Oct. 3–4.

Also Noteworthy
Former U.S. Rep. Gabrielle "Gabby" Giffords, the Congresswoman from Arizona who survived an assassination attempt six years ago in Tucson; and Reyna Montoya, the founder and executive director of Aliento, an Arizona organization that advocates on behalf of undocumented immigrants, both were included among the local SHE-roes of the HERSTORY installation that accompanied 'Ultraviolet' in Phoenix.

Shout Outs: To photographer Anton Corbijn (who was in the house Tuesday), as well as to Bill Carter, Olympic swimmer Michael Phelps, and Arizona's own Senator John McCain and his wife, Cindy McCain.

Review on U2.com
From lipo65: 'Second time this tour. How do you not fall in love, every time, with this band, life, your friends and all that is good in the world? That's what this concert represents. My sister in law (who saw this show on this tour six times, including taking the pilgrimage to Dublin this summer) flew into Phoenix, from LA, to join me and several others to see this show. You can't not smile during this show. Thanks for all that you do and all that you give!'

Were you at the show in the University of Phoenix Stadium? Tell us all about it. Add your own review and photos on our tour pages.