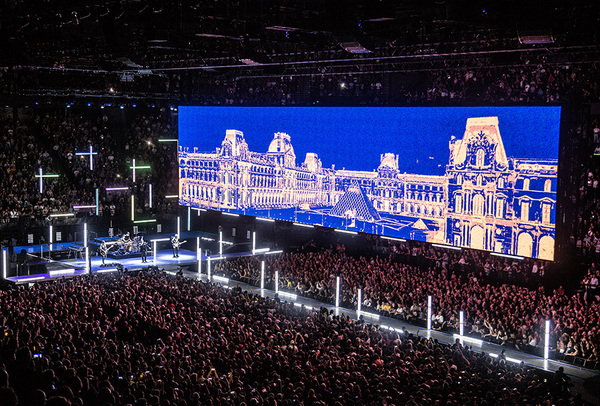 'I was lost, I am found…'
'I was on the inside
When they pulled the four walls down
I was looking through the window
I was lost, I am found.
If you walk away, walk away
I walk away, walk away
I will follow...'
When & Where
Second night of four, AccordHotels Arena, Paris, Sunday, September 9th, 2018.

Set List
European tour debut for All Because Of You and its first live performance on European shores since the last show of the Vertigo Tour in 2005. Here's tonight's full set list.
In The Press - Stéphane Davet for 'La Monde' (via google translate)
'...At half-time, the group disappears behind the scenes, replaced by boxes of comics projected to the sound of Hold Me, Thrill Me, Kiss Me, Kill Me , composed in 1995 for the soundtrack of the movie Batman Forever . In the chronology proposed by Bono, formation to the nascent success is then intoxicated by the starification. No title of their first international triumph - The Joshua Tree - is played tonight, but the quartet returns to the small stage in the shape of a circus track, to chain a succession of electric hymns evoking the vertigo of rock climbing. - Elevation , Vertigo , Even Better The Real Thing ... -, without this time holding back his shots. As much narrator as singer, Bono, in top hat of Monsieur Loyal (or Crazy Hatter, Alice in Wonderland ) remembers their excesses, their excess alcohol and artificial paradise. At the time, one of their records - Achtung Baby (1991) - had put these problems in abyss and allowed the group to beautifully reinvent itself . On stage, Bono had created a double evil MacPhisto, mocking the misguidance of the group as the society of the show. In a rare rendition of Acrobat , one of Achtung Baby 's songs (played only once on stage before this tour), the singer makes MacPhisto reappear through a video trick applied to his face. The evil clown then addresses those who, in the afternoon, participated in the march for the climate. In his sarcasm and his apology for "fake news," it's easy to recognize an incarnation of Donald Trump. Bono then describes the path of redemption, saved by the love of his wife, Ali - You're the Best Thing About Me -, family life, the Côte d'Azur and, of course, the charitable commitment . During Summer of Love - inspired by the story of an Aleppo gardener who continued to cultivate his flowers by challenge, before being killed by an air raid - the contemplation of a Mediterranean paradise, reveals a liner of cruise, before one can see an overcrowded Zodiac of refugees on the verge of drowning. Then there are images of far-right demonstrations shouting in Europe and the United States, their hatred from abroad, then films from those organized in solidarity with migrants. Bono appeals to Martin Luther King in a heroic version of Pride (in the Name of Love) , then to the values of the European Union whose blue flag with gold stars is set in the background during Get out of Your Own Way, as a bulwark of nationalisms. As often with U2, no cause should be forgotten. That of women, that of LGBT ( Love is Bigger Than Anything in Its Way ). In conclusion, the fragile lullaby 13 (There Is a Light) sees Bono take out a big light bulb from a model of his childhood home, responding with an ultimate symbol - hope and light can come from the most unexpected - to the ominous darkness of the beginning of the concert...'
Experience Of The Day
Also for the first time in Europe this tour, a young fan was pulled up on stage by Bono during City Of Blinding Lights. @U2Valencia captured the moment via Instagram of him sporting the singer's hat, and looking pretty chuffed.
On The Socials
@parwacha (via Instagram) A sparkling inspiring night, full of love, humility and engagement for Change - Thanks #u2
@philtri (via Twitter) quel show hier à @AccorH_Arena !! Bravo @U2 et #Bono pour ce très important discours politique basé sur le respect des uns et des autres en ces moments de tension dans tous les pays. Continuez à porter ce discours de liberté
(translation : what a show yesterday at @AccorH_Arena !! Bravo U2 and #Bono for this very important political speech based on respect for each other during these moments of tension in all countries. Keep carrying this freedom speech
@Cat3376 (via Twitter) What a fantastic and crazy night in Paris last night - it feels we traveled with them from innocence to experience in just one night.
What Did Bono Say? (As Mr MacPhisto)
'Je suis Monsieur MacPhisto, à votre service, madame et monsieur. I'm just back from Sweden. I didn't know how much I liked the Swedish. Tall, blond, blue-eyed… boring. But now it appears the Swedes are beginning to discover their Aryan potential!… Ak-Ak-Akesson… Jimmie Ak-Ak-Akesson! I like him… he's done so well in the election today… I love elections… I love balloons… I LOVE parties that get out of hand...'
Fan Reviews
Remy & the @U2Start team have been running post-show interviews with European fans right outside the venues as they leave - check out their latest Periscope broadcast from Paris discussing Macphisto, Sweden, setlist changes, fans on stage and plenty more.
If you were at the second show in Paris, post your reviews and add your photos here.