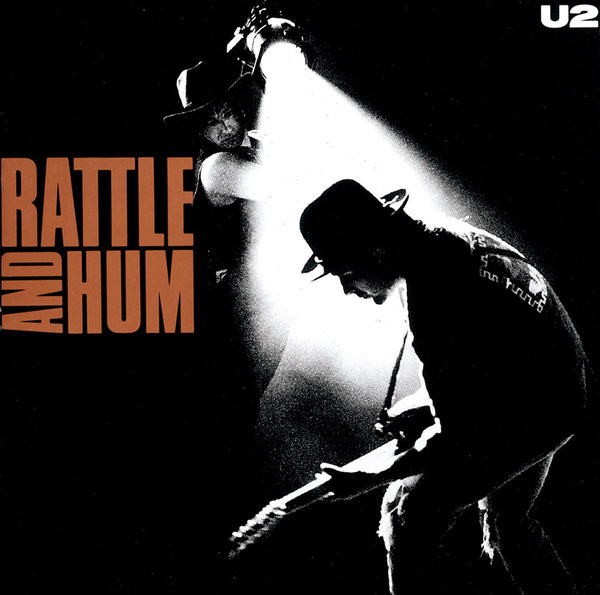 'And the fever, getting higher...'
It arrived a quarter of a century ago and here's some of the ways
Rattle And Hum
was a special record. For starters... it's got
Desire
.
It's got
The Memphis Horns
on
Love Rescue Me
and
Angel of Harlem
.
It was
a double album
(remember them?) with nine new songs, only 18 months after The Joshua Tree.
It
came with its own film.
'If I had feet like that Lawrence, I wouldn't want them in the film.'
'If I had a head like yours, I'd bleedin' bury it.'
It's got the
New Voices of Freedom
. The church choir from Harlem found the gospel truth in I Still Haven't Found What I'm Looking For, sent the band a tape and asked them to church. Next thing you know they were onstage at Madison Square Garden and pressed in vinyl on Rattle And Hum. Praise the Lord!
'When you get to the bottom/ You go back to the top of the slide...'
It channels the spirit of rock'n'roll
from Jimi Hendrix and The Beatles to Bo Diddley and Elvis.
It
went into the past to find a way into the future
- with thanks to Bob Dylan (Hammond Organ on Hawkmoon 269, backing vocals on When Love Comes To Town, co-writing lyrics Love Rescue Me).
'If I'm honest this was the end of a journey that Bob Dylan had sent us on.'
explained Bono.
'In 1985, sitting backstage at his concert in Slane Castle, he said to me, 'You've got to look back. You've got to go back. You've got to understand the roots.'
'I think we wanted to ground all the electricity that was going through us and to understand the past better. And it really did help us. Listening to black music helped us get the groove ready for Achtung Baby. Listening to folk music helped me develop as a lyricist. But this was a work in progress; gauche and awkward as it might have been, I think it was a necessary part of our development.'
Some of it was
written in the bath
. The band had been to see BB King, with Bono promising to write him a song. But when BB came calling for When Love Comes To Town, it wasn't quite ready.
'I wrote the lyrics in the bath in about ten minutes, while he was waiting downstairs,'
said Bono.
'Got out of bath, dressed, went down and gave him the song. He said to me, 'You're kind of young to write such heavy lyrics.'
It's got
All I Want is You
.
'Van Dyke Parks came into the studio
,' recalled Edge. '
Listened to what we'd done, went off and wrote this absolutely gorgesous and incredibly haunting arrangement which lasted two and a half minutes. It was a great way to end the album in that it has a traditional basis but it was a truly U2 song.'
It's got
'a red guitar, 3 chords and the truth'
from the day that All Along The Watchtower helped 'Save The Yuppies' in San Francisco.
It was
the end of an era
and cleared the way for the band to 'go away and dream it all up again'. 'The best live rock album ever made' announced Time Magazine, getting slightly carried away. Other reviews were distinctly less fulsome but as Larry pointed out, the criticism
'... did inspire us to go and chop down The Joshua Tree
.'
What does Rattle And Hum mean to you? Remember where you were when you first heard it? Is there a track that'll always have a special meaning for you? Where does it sit among the band's releases ? Tell us below and check out the conversation already underway
on the boards in the Zoo
.
(If you're tweeting about the 25th anniversary, don't forget the hashtag #rattleandhum )