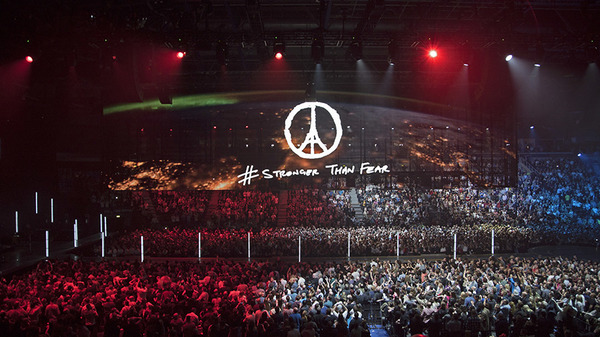 First show in Belfast for 18 years, first show since Paris and lots of fans taking part in #whiteoutbelfast to 'make a statement in the name of peace, love and music and pay our respect to the victims of terror and violence all around the world.'
Powerful and poignant. #strongerthanfear
'What's going on?', asked Bono before introducing Iris.
'Turns out an awful lot since the last time were here... you lot are heroes to all of us... It's great to be back in the heart of Belfast...thanks for sticking with us.
'If you'll indulge us for the next few songs we'd like to take you on a very personal journey to the Northside of Dublin, to streets not far from here that gave life to this band... it's the view of a teenage boy – forgive me the melodrama when a lot of you have had much greater dramas to deal with...but those first fights in the playground, first loves, first losses...they also form you.'
Some of the early press reviews capture the vibe.
'U2's first Irish show of their iNNOCENCE + eXPERIENCE tour - and, amazingly, their first gig in Belfast since 1997 - was a triumph of pure rock theatre.' reported RTE, noting the closing encore tribute to events in Paris. 'The encore is deft and deeply felt. To a dazzling visual display of Paris at night, U2 perform a shimmering City of Blinding Lights for the City of Light.
Urgent, political and still hungry after all these years, this latest incarnation of the U2 live show is never less than gripping.'
This was, reported The Irish Times, 'something different: a new desire to reach out and connect with the audience, to tell them a story, to bring them on a journey.'
'The foursome were welcomed like heroes' said the Independent. 'And the feeling was mutual.'
Were you at the opening night in Belfast ? Add your own comments and post your photos here.