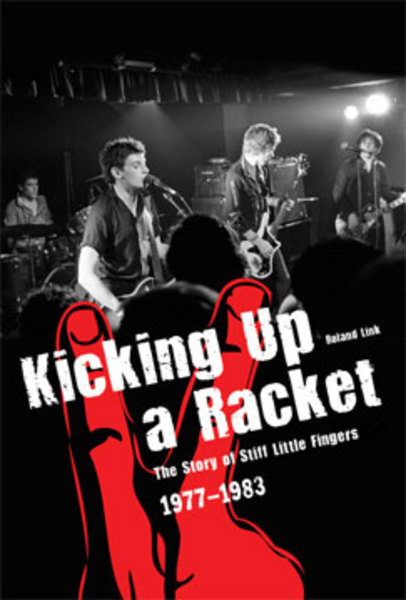 Based on a desire to read a book on his favourite band author, Ro Link, spent seven years researching a new biography of Stiff LIttle Fingers, along the way linking up with like-minded long time SLF fan, Ian Templeton. Ian spoke with Adam and Edge about the band's early records, their live performances and the influence they had.
Both recall seeing the band in 1978 at Moran's and McGonagles in Dublin.'I remember most definitely the first time I saw Stiff Little Fingers,' recalls Adam. 'The reason I recall the show was because it was so mind expanding. They were just so incredibly powerful, they were the equivalent, I guess, of an English person seeing the Clash at the 100 Club or something.'
'In Dublin, ' he adds. 'Certainly within our circle, those shows kick-started a hundred Irish bands across the city'.
Edge recalls the 'great punk anthem' that was 'Suspect Device'. 'It had everything really, it was an incredible three-and-a-half-minutes. So much venom in the lyrics and the sound was so messed up. It was perfect in its imperfection. These guys just really meant it. It meant everything. It was life or death, that's what I remember from the show.'
The title of the book is a nod to SLF guitarist, Henry Cluney, and Edge recalled his whirlwind style. 'I just remember being blown away by the intensity of the band's playing, particularly actually Henry. Just the way he would attack the guitar, he was gone, he was so lost in it. Just the total commitment to the playing, there was not a hint of holding back or posing.'
'Kicking Up A Racket The Story of Stiff Little Fingers 1977 - 1983' is published by Belfast-based Appletree Press and available
from here.
(And if you're in or around Belfast tomorrow, Thursday 26th, there's a launch party at the John Hewitt Bar, 51 Donegall Street, Belfast, BT1 2FH