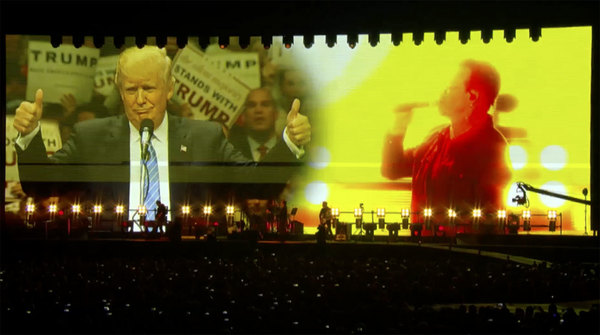 'Inside it's America...'
Speaking with the candidate in a year of election. 'Bullet The Blue Sky' at the Dreamforce show, live from the Cow Palace.
The band opened up with Vertigo, Elevation, I Will Follow and Beautiful Day before a surprise performance of California (There Is No End To Love), a track played in full only a handful of times on the road last year.
The rest of the set list went like this: Angel of Harlem, Stuck In A Moment You Can't Get Out Of, Every Breaking Wave, Bullet The Blue Sky, Pride (In The Name of Love), One, 'Streets', With Or Without You and 'Still Haven't Found'. 40 closed the night.
Were you at the show?
Let us know how it was in the comments below.