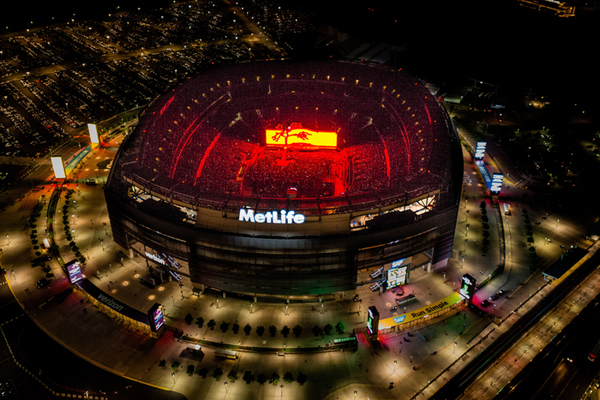 When & Where
Thursday, June 29th 2017, Metlife Stadium, East Rutherford, New Jersey. 20th and penultimate night of Leg 1 of #U2TheJoshuaTree2017
After their 13th & final appearance as support on this tour, The Lumineers said farewell and thanks.
@grandcanuck (via Twitter) : 'no need to thank us (for our time). Thank you for your music. Fantastic set'.
Bono held them up too, during the intro to NYD : "Thank you to The Lumineers… tremendous trio! Wesley… Jeremiah… Neyla.. thank you for coming on the caravan with us… Troubadours!'
Set List
SBS, NYD, BAD, Pride - Then came The Joshua Tree, eleven tracks, in sequence, for the 20th time in a row.
Act III was looking similar to night one in New Jersey - 16. Miss Sarajevo 17. Beautiful Day 18. Elevation 19. Vertigo - but then a few sweet changes, doubling up the tribute 'to the women in our lives' with 20. Mysterious Ways 21. Ultraviolet (Light My Way) 22. One and 23. The Little Things That Give You Away.
Here's the complete set list from night two in East Rutherford.
Social Post
@mrsjameshetfield (via IG) :'First time seeing seeing U2 #bulletthebluesky and #withorwithoutyou alone are worth the price of admission #amazing #concertbucketlist #datenight #mrsjameshetfieldapproved'
@ontheroadwithu2 (via twitter) : 'Bono forgets what song is next and asks "Where are we The Edge?' And Edge replies "New Jersey".'
@febottini (via twitter, AFTER 'Exit') 'No one tweets during Exit. Fact'
In The Press
Spencer Dukoff in the New York Daily News.
'While powers that be attempt to divide us and them, the simple truth is that we are all "one." As the sun set on the Meadowlands and Trump's travel ban 2.0 went into effect Thursday night, Bono remained steadfast in his belief that America is a nation of immigrants.
"This city, this country has given us Irish safety and sanctuary for hundreds of years," Bono said. "We would like to say thank you."
It was U2's second night at MetLife Stadium in honor of the 30th anniversary of their seminal album "The Joshua Tree."
Bono also invoked Dr. Martin Luther King, Jr. in a semi-prayer for this turbulent political era. "Dr. King, in a time of terror, keep us tolerant. In a time of fear, keep us faithful," Bono said.
Although the show wasn't too heavy-handed in its political message, the band picked its spots to directly express its opinion on immigration and refugees. In one particularly poignant moment, a film featuring an interview with a teen Syrian girl played as the intro to "Miss Sarajevo," itself a tribute to civilians from the Bosnian War. In the film, the girl expresses, through subtitles, "I would love to go to America because it's a very beautiful country … It's the land of dreams."
Donald Trump's name was conspicuously absent from the show even though Bono took time to thank President Bush and President Obama for their help in combatting the HIV/AIDS crisis in Africa. He also took time to express his appreciation for members of the media. "I would like to thank all of those that keep us vigilant, like journalists, in this country," Bono said.
If You Had To Pick One Song
@Ballatc (via twitter) : 'They sang one tree hill and dedicated it to everyone who's dealing with loss and I'm emo as fuck'
What (else) did Bono Say?
During Bad intro : "Thank you for coming out tonight… by land, by sea, by tunnel… That you would take the trouble to get all the way out here means a lot to us…thank you for sitting in the traffic, whatever you had to do on a hot summers night to come to see your favourite Irish band!
Our prayer this evening, is that we have one of those EPIC nights… that we all remember to hold on to. And that we let go of the useless and offer ourselves be useful. Thats our prayer."
Review On U2.com
mindy schwartzerkoboni : 'What a beautiful night! it was our first U2 concert and my son's first stadium show. Was an amazing experience. thank you U2 for a fantastic show <3 <3'
If you were at the show tonight, tell us all about it. Add your own review and photos on our tour pages.