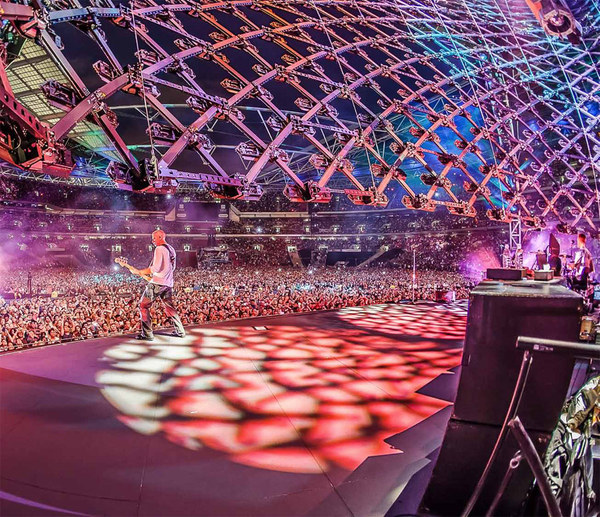 'From the Ground Up' is the story of U2360°, the inside track of what became the biggest rock'n'roll tour in history. The newly announced 'U2.com Music Edition' of this essential book, adds the soundtrack - Edge's Picks, a 15 track live CD curated by The Edge.

In this edited extract, writer Dylan Jones is backstage on showday in Moscow, describing how the band get ready each night - and how they hear each other during the show. 'Being on stage,' reflects Adam. 'Is sometimes like being in an iPod.'
(And that stunning photo above ? It's from the book. They're all sensational!)
'On the 360 tour, every date was a party, every pre-gig meet-and-greet a summit, every after-show a VIP love-in. This was the first time U2 had ever played in Russia, and in August 2010, a day after Bono traveled to Sochi on the Black Sea for an official meeting with Medvedev, the band finally played the Luzhniki stadium in Moscow. And there were nearly as many security guards at the show as there were genuine fans. According to the crew, being in Moscow meant that anything you needed to get done would probably take at least twice as long as usual and would be fraught with entirely pointless obstacles.
'Why hadn't we played Moscow before?' said Paul McGuinness. 'For the same reason as Hitler and Napoleon actually: it's too far. Until recently there weren't many places in between you could route to. If it takes three days to get the trucks to Moscow and three days to get them to the next place you can play, let's say it's Berlin, it's not worth it. So as Eastern Europe has become more prosperous and there are places to play, it gets easier. It certainly wasn't a decision in principle, we just never got round to it.'
'In many ways it's a country that's come very far and in other ways it's not moved very quickly at all,' said Arthur Fogel. 'So doing business can be very challenging, but it's definitely opened up as a real market for shows, and there's a lot of tourists that go through there.'
'They knew the tunes, and they were enthusiastic and rowdy, although there was a lot of security,' said Adam. 'The authorities had a problem with Amnesty International and Greenpeace, who were both petitioning, and wanted to arrest them all. So a phone call was made and everything calmed down. But we had police with guns and stuff like that, and we're just not used to that. In the past we were always slightly wary that there wasn't a real market in Russia, that you couldn't actually get tickets out to the general public, and it's still questionable because there¹s such a differential between the middle classes and the poor. But it's better than it was.'
At the Moscow show, Bono treated the crowd to an ad hoc a cappella version of 'Singing in the Rain, though most fans seemed more familiar with the words to 'Where the Streets Have No Name', 'One' and 'With or Without You'. And as it rained, ­ and in Moscow the rain falls like it does nowhere else in the world, ­ Larry's own computerised umbrella shot up to cover the drum riser, making the crowd instinctively applaud yet another of the show's sci-fi elements.
The band's show-day afternoon regime was much the same as it ever was. Adam's regime certainly was. In the afternoon he'd see a physio, to loosen him out after training in the morning. Then he'd have a light meal in the dressing room, and go into wardrobe. Then the band would discuss the set, which would see them through to about quarter to eight, at which point they'd go to their various hospitality rooms, to meet any guests they may have invited for the evening.
'I have to say nowadays I can really cope with a lot more distraction before the show than I used to be able to,' said Adam. 'I'm much more focused than I used to be. I empty the mind of anything that might be distracting, trying to get present in the now as opposed to thinking about phone calls you have to make or emails you have to reply to or anything that's too in the organisational mode that could be a distraction. The dressing room has quite a monastic quality; people are quiet, concentrating on the running order.'
Bizarrely, Adam actually gets apprehensive. 'There are times when, even though you've performed a song thousands of times, every time you come back to it it's trouble. So there are times when I have a brain freeze, where if I haven't wrestled a tune into submission and it's usually when we recorded it, when I couldn't quite resolve a chord change, or didn't think it was fluid enough it always niggles me and it kind of just wrong foots me. So it's a bit of a battle of wills and then eventually I'm fine with it. 'Walk On' is a tune that I just dread, and I can see it coming with real horror. I've kind of got there now, but I just keep forgetting a block of notes. And you know 'Streets' is always a problem as there's always a lot of chord changes that takes a lot of concentration. But, you know, it changes.'
360 was the second U2 tour on which Adam had worn his 'ears', as they are known in the trade. These are the in-ear monitors used by musicians today in order to hear what they're playing on stage. They look like iPod ear buds, and are made-to measure from moulded impressions taken from the wearer's ears. Essentially you have a syringe put in your ear, which squirts out a substance akin to modelling clay and toothpaste, creating a thrillingly violating sensation in your ear canal. This is left to set, then extracted with a satisfying squelch before being sent off to the audiologists.
'The rest of the band have been using them since Zoo TV, but I only started on the last tour,' said Adam. 'They give you a very accurate sound mix no matter where you are on the stage, so it's a bit like listening to a proper live gig, whereas traditionally if you're performing you tend to get your little sweet spot; so for a bass player you're hearing the drums, you're obviously hearing the bass. You're hearing enough of the rest of the band to know where you are. But if you need to hear more of anything you just move, because you can stand nearer the guitar amp if you want to hear the solo, or you can be nearer the singer if you want more of the vocal. So once you've got these things in it's like having headphones in, it's like listening to your iPod. Actually, being on stage is sometimes like being in an iPod.'
Just before show time, Edge would quietly strum a guitar, Larry kept himself to himself, and Bono would start his vocal warm-up. If you sat in one of the adjacent rooms you could hear him doing his exercises, which, through stone and plasterboard, often sounded like badly recorded Bjork bootlegs. The show schedule almost never changed: 5 p.m. Doors, 7.15 p.m. Snow Patrol (say), 8 p.m. Set Change, 8.45 p.m. U2 On Stage, 11 p.m. Curfew.
And while the band did soundcheck in the early days of the tour, as they were playing stadiums, it was fundamentally problematic as the doors opened so early. They started letting people in at five o'clock, which meant that any sound check would need to start at 3 p.m., which seriously compressed the day. The pre-show ritual never changed either. Each night, before they go on stage, U2 do exactly the same thing. They walk from their individual dressing rooms, or from their hospitality suites, and they convene with each other.
Often the band won't have spoken to each other all day, as they've been doing their own thing, or looking after their family, and it's a way of reconnecting. It's not exactly a self-administered pep talk, as they're not really that jockish (not at all, really), but a kind of communion, and a moment of
gratitude.'
'From The Ground Up: U2.com Music Edition' comes with Edge's Picks, a 15 track live CD from the tour and is only available with a
U2.com subscription
.