The best shows of the tour? 'South America,' says Adam. 'The other ones I remember for pure determination were where we had torrential rain – Zurich, Brussels, and one of the Austrian ones where we just had insane rain. The audience, they didn't give up on it, they stayed there and they went right to the end of the show...'
'From The Ground Up' is the story of U2360 and in our latest edited extract we're in Montreal, near the end of the tour, as writer Dylan Jones asks Adam, Bono and Paul McGuinness how it's been - and what's coming next. (In our earlier extracts we
travel to Glastonbury Festival
to find out how Damien Hearst got involved and go
backstage in Moscow
as the band get ready for showtime.)
'From The Ground Up' is the definitive account of the biggest rock'n'roll tour in history. The special 'U2.com Music Edition' of this essential book adds the soundtrack, Edge's Picks, a 15-track live CD curated by The Edge.
'In 1976 Martin Amis reviewed the Rolling Stones at Earls Court for the New Statesman. 'The ante-hall of the Earls Court Arena was a Brobdingnagian underground car park of remote and overcrowded bars, sweet shops and dirty hot-drinks machines. Normally a token homogeneity obtains at the average rock concert: David Bowie fans all look and behave like David Bowie, Bryan Ferry fans all look and behave like Bryan Ferry etc. But everyone is a Stones fan.' Not everyone is a U2 fan, but not only do they appeal to U2 fans, they also appeal to people who don't necessarily like any other sort of music, and the people who make up the crowd at a U2 show might not normally go to another concert all year. Because each time U2 go out on the road, they attempt to reinvent the rock experience, and each time they succeed. With the 360 tour, however, they produced one of the most extraordinary, one of the most extravagant live experiences in the history of rock 'n'roll, and one that is unlikely to be repeated on this scale again. The seven million people who saw it will never forget it.
'I suppose in some sense a U2 tour is a little like a movie franchise,' said Willie Williams, 'where if you go and see the latest Bond you will expect that there will be that scene where they show you the gadgets and all that sort of thing, so similarly there's an expectation that certain things and certain songs will be in the show. But then the audience always expects more, as do we.'
As Paul McGuinness described it, U2 was the equivalent of a football team that wins the World Cup not just this year but does it again four years later, and again four years after that, and again four years after that.
'Biggest is something we've had for a while; best is something else, however ... In a way, good enough is easy to get to. Great is harder; maybe not every day, but I think they are clearly the greatest rock and roll band of the day, and of the age, and maybe of all time. And the longevity of the group produces commercial ambition to do great shows, great recordings, and better things than they've done before...
'There was a guy we met once in the eighties – Bobby Colomby – who was the drummer in Blood, Sweat and Tears and he later went on to have a successful career as an A&R man and also as a TV personality in Los Angeles. He introduced Bono and Adam once for a television show in the early eighties in Los Angeles. After the interview he said, "Do you mind waiting for another minute? I've got something personal to say to you, not on camera." And we all thought, "Oh shit, he's a religious nut; what is it going to be?" And he said, "I was in a big band myself once and I loved it, and not ashamed to say that, but I'm saying this to you now because I think you can benefit from it. Try to enjoy every moment of it, because it won't last forever; every time there's a limousine or an enthusiastic audience, just remember that it doesn't go on forever, and relish it." It sounded like the truth, so we tried to observe that. So for a few years whenever somebody might mention the limousine's late or something, we'd say, "Bobby Colomby!" And we'd think of Bobby.'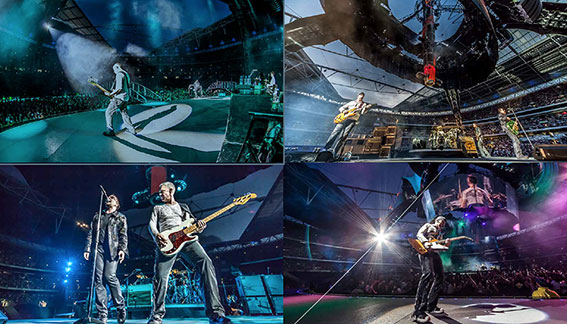 By common consensus the best gigs of the tour were the Spanish and South American ones that had the feistiest, most expectant crowds. In those parts of the world the audience really does come to be part of a communal event, rather than just to come and 'see a show'. 'I would say South America,' said Adam. 'The other ones I remember for pure determination were the ones where we had torrential rain – Zurich, Brussels, and one of the Austrian ones where we just had insane rain. The audience, they didn't give up on it, they stayed there and they went right to the end of the show. I think every crowd is slightly different depending on what their cultural touchstone is and what their experiences are. I think American audiences are very familiar with the pace and the language of the concert; they understand the beginning, middle and end, they understand the narrative. And because they see a lot of shows, they go to a show a week in the summer or a show a week in college, they don't ever go manic. They're fairly well educated, if you like, in terms of the concert. When you go into places like South America where you might get one big show like us through every two years, they must see a concert that a lot of people turn out to as a cultural event. In South America, as soon as you get on stage, it's like lighting gunpowder.'
After the (Montreal) show, Bono, Ali and I took a helicopter back to Guy Laliberté's house, twenty-three kilometres east of Montreal, in Mont Saint-Bruno, in the beautiful Monteregian Hills. The tour was coming to an end, and Bono was in a typically reflective mood (it comes naturally). How did he feel about this tour of tours?
'Many of these people on the tour have been with us for thirty years,' he said. 'And I can assure you it's not sentimentality – we don't keep people because they're old friends. All these people are the very best at what they do. We want it to be good for them too. We don't want to let them down.'
And it is so very obviously a community. There might only be four stars above the parapet, but having dropped in and out of the tour for two years, it was impossible to imagine the 360 tour as anything other than a kind of benign circus, with everyone working for the common good.
'My mother's family was so big and so joyous, and that sense of community has stayed with me all my life,' said Bono. 'They were so inclusive. With everybody. I remember being in this old railway carriage that was on the dunes in north Dublin, and everyone singing. And I remember when community disappeared from our family, when people left, and I remember thinking, this is bad, this is not as much fun. Community is so important, and I suppose we look on everyone who works with us as family, and as a way of not being corporate.
'We keep this community going because we are a family. If we were Jamaican nobody would question the way we operate. Oh yeah, they make this kind of spiritual music, a bit political, they all hang out together. Yeah, got it. But then I suppose there's always been a Jamaican vibe to a lot of what the Irish get up to. I'm sure Joe O'Herlihy's Jamaican. His accent is totally Jamaican. Lots of one, two, trees and t'ing. He's the blackest Irishman I've ever met.
'This band is about joy, it's about community, it's about loyalty. And it's very powerful to be with the same people for such a long time.'
In Chicago Bono had celebrated the city's 'majestic skyline', as well as the audience: 'We're the wind in the windy city. When you put this band with this crowd, there is no room for modesty. Anything is possible.'
It was a sentiment that almost everyone on the tour appeared to share. With U2, anything really did seem possible. Which begged the question: what in the world were they going to do next? Would there ever be a more extravagant tour? There was a feeling amongst the touring party that, enormously proud though they were of their achievement, a further extravagance might be too much, and that anything bigger than this might be impolite and self-aggrandising. Paul McGuinness was already arranging to sell the Claws as permanent event space around the world ('Six million a piece, free assembly, postage and packing!'), and there was an unspoken assumption that nothing of its type, or size would ever be built again. Not by anyone. Arthur Fogel actually thought the next U2 tour would be a lot less stressful than 360, principally because it almost has to be less ambitious.
'Personally I think the encore is going to be easier,' he told me. 'I think that the pressure was much greater to bring this home as an ultimate success. Now that they have done it, it opens up a whole realm of possibilities in terms of what to do next.'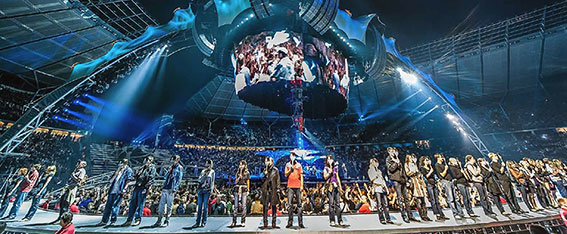 'From The Ground Up: U2.com Music Edition'
comes with Edge's Picks, a 15 track live CD from the tour and is only available with a
U2.com subscription.