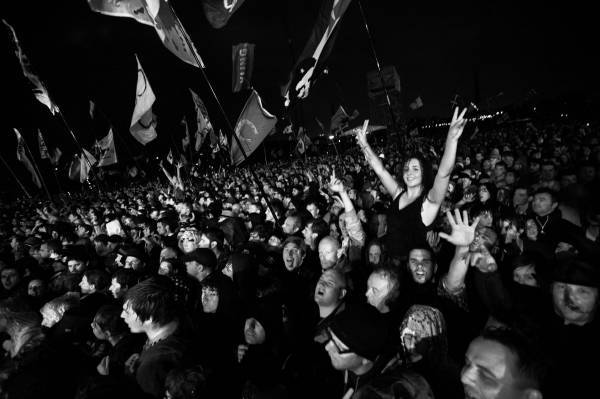 U2 headlined the Glastonbury Festival in the UK tonight and from the opening bars of 'Real Thing' to the closing seconds of Out of Control, it was a rock'n'roll tour de force.
Over an hour and three quarters on stage, the band played 19 songs from eight albums spanning three decades - a blistering show that set Glastonbury 2011 alight.
'Has any other headline band performed so many hits?'
asked steelerik on our live feed.
'I doubt it...'
A year after they were due to make their debut here on Worthy Farm, tonight they finally made it, their first UK festival set since the eighties. By the time they arrived on stage shortly before 10pm, there were tens of thousands of U2 fans who'd made their way to the front of the Pyramid Stage - holding high their flags and banners.
And from the start of 'Real Thing' - accompanied by the premiere of a stunning video specially commissioned from artist Damien Hirst - and running into four more tracks from Achtung Baby, the band never took their foot off the gas.
'They absolutely nailed it,'
tweeted gayleague.
'Hugely enjoyable, they've still got it...'
As well as the live broadcast in the UK and Ireland, there was a global audience following live updates online - at one point Bono, Adam, Achtung Baby, Edge, Larry and Zoo TV were all trending on Twitter.
'I think the guys have just shown glasto wot the last 41 years as been waitin for!!
' tweeted Yvonne Murray.
We want to hear from you on the band's debut at Glastonbury. Were you there tonight? Did you watch it on TV or follow online?
Add your own comments below.
(Update: The first press reviews of the show are coming in, take a look
over on our tours page
- which is also the place to add your own show review if you were at Glasto last night.)