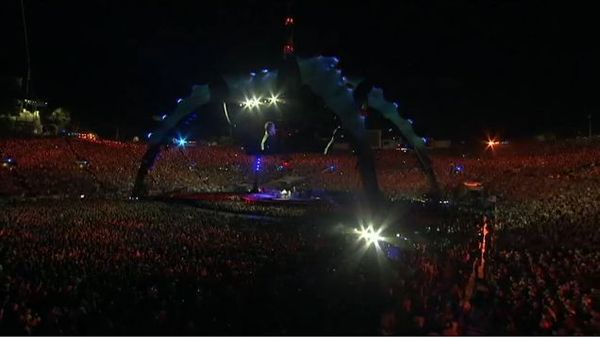 'What time is it in the world and where are we going?' Bono asked after 'Get On Your Boots'. Tonight it was every time on the clock, depended which country you were in as the U2 360&deg: show went out live on YouTube to millions of viewers on seven continents.
A record-breaking 97,000 fans watched the show live at the Rose Bowl and we've been getting messages from fans all over the world who were enjoying it live online : you were watching in China and New Zealand, in Iran and in North Korea, in Russia and Latin America, in Canada and right across Europe.
From Iceland ('Definitely the greatest economy class I have ever had...') to Peru ('amazing, incredible and exciting...') the whole world seems to have been at the show.
'It's like we are all there at the concert,' said Baadsilver on our Zoootpia live thread 'We ALL have our hands in the air and are singing... crazy tonight for U2.'
Or as one smart Tweet put it, 'This has to be the best U2 concert I have never been to.'
From Breathe to Moment of Surrender, felt like a moment of rock'n'roll history tonight. If you were watching somewhere in the world tonight, why don't you tell us what it was like in the comments box at the bottom of this page - and don't forget to include which COUNTRY YOU WERE WATCHING IT IN.
If you were actually at the RoseBowl
post your own review and add your photos
on our tour page, or
catch the rebroadcast here
.
Meantime, even though you know this, here's what they played at the Rose Bowl tonight.
Breathe
Get on Your Boots
Magnificent
Mysterious Ways
Beautiful Day
I Still Haven't Found What I'm Looking For
Stuck In A Moment
No Line on the Horizon
Elevation
In A Little While
Unknown Caller
Until The End of the World
Unforgettable Fire
City of Blinding Lights
Vertigo
I'll Go Crazy - Remix
Sunday Bloody Sunday
MLK
Walk On
One
Where The Streets Have No Name
Ultraviolet
With or Without You
Moment of Surrender