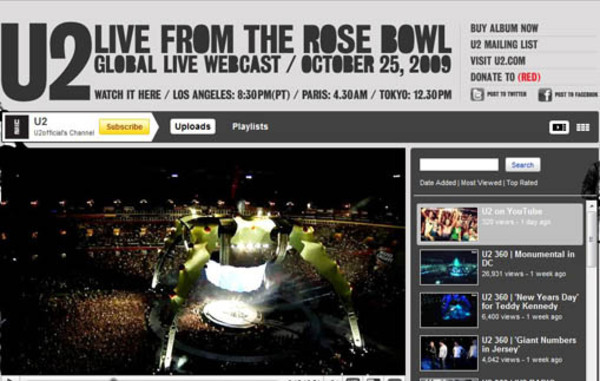 California, US
U2 have confirmed via video blog that their sold-out concert at the Pasadena Rose Bowl in California, this Sunday, 25th October, will be streamed free, in full and live on YouTube. It's the first time a show of this size will be streamed live.
The Rose Bowl show is the penultimate U2 show this year - with more to come in 2010 - and already is set to host the venue's biggest ever audience of over 96,000 fans. The 360° Tour, which has been critically acclaimed and 're-invents rock'n'roll' (Rolling Stone Magazine), will now boast unique access for fans worldwide - as fans in territories yet to be visited by the tour, or not at all, will be able to enjoy the whole show online.
Managed in partnership with Live Nation, this sell-out tour has broken attendance records in most venues it has visited - its success due in part to increased capacity coupled with a lower ticket price and great sight lines afforded by the stunning in-the-round stage set.
U2 manager Paul McGuinness said, 'The band has wanted to do something like this for a long time. As we're filming the LA show, it's the perfect opportunity to extend the party beyond the stadium. Fans often travel long distances to come to see U2 - this time U2 can go to them, globally.'
YouTube will be streaming live across five continents. The show will be available in the usual You Tube way, as video-on-demand, following two full replays - after the live stream - on both U2.com and You Tube.
'YouTube is thrilled to be able to provide our global audience with a live streaming performance from one of the world's greatest bands,' said Chris Maxcy, Director of YouTube Partner Development. 'We are always looking for new ways to connect fans around the world with their favourite artists, and this is the perfect opportunity to do just that.'
For more information stay tuned or visit
You Tube
.
Update : We've just heard you'll be able to watch U2's live stream on YouTube where ever you are. Enjoy the show.