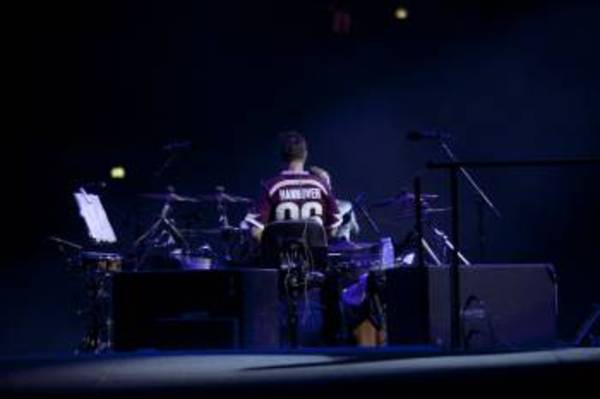 Second of three shows in Germany this summer and Hannover is jumping. Christian Wulff the President of the Federal Republic of Germany is here, along with Wim Wenders, the President of German movie directors, and long-time friend of the band.(Also spotted in the mix: artist Sam Taylor Wood and actor Aaron Johnson.)
Kassabian get things off to a seriously rocking start again and before you know it we're into Return of the Stingray Guitar. 'Danke Hannover, thank you for coming, thank you for tonight€¦'
Video of
'Get on your Boots'
from tonight.
Bit of a first when Bono slips into extra-terrestrial, alien-creature vocal mode to ask everyone how they're finding 'our space-ship'.  'We come from a small green planet called Ireland, but we love it here in Germany.  We hear there are festivals in this area devoted just to drinking beer and eating....we think this is a good idea€¦ please continue to do it.'
If that went down well, so did the band introductions  - as characters from Star Wars. 'On guitar, R2D2 €" The Edge; On bass guitar, Princess Laia €" Adam Clayton; 'I'm the hairy one...; On the drums, Darth Vader - Larry Mullen.'
Where will the space theme take us next? Following on Twitter as well tonight, and it was amazing to see so many people experiencing the show remotely: 'Shout out to those watching on the Fan Feed on U2.com! Welcome to all U2ers! No matter where you are from, tonight we are ONE online!' Couldn't have put it better ourselves.
Mysterious Ways spills into Elevation and loud appreciation greets Bono as he thanks the German medics who looked after him through his recent injury. It's got to be a special song to follow 'Still Haven't Found' and 'Glastonbury', getting its third live airing,  is showing all the signs that it might be that song.  
Big moment too when Bono invites a young woman up on stage to join the band for City of Blinding Lights. The set takes us on a journey, via the  'Crazy' remix and Sunday Bloody Sunday, across Europe, 'down to Istanbul, across the Bosphorus Bridge, down into Asia and the country of Burma€¦ We send a message from the people of Hannover for Aung San  Suu Kyi.'
Tonight we also learn that Paul McGuinness was born in Hannover '125 years ago' and that it is the birthday of ' a mentor, a guide' - the one and only Wim Wenders. And we also remember Robert Enke, the German international goalkeeper who lost his life in this city. It's a powerful moment when Larry stands up on the drum riser - wearing a Hannover 96 shirt.
That's some highlights of the show from us, but how was it for you ?
Were you at the show ? Add your own review  on our
Tour Pages
- and upload your photos.
And if you weren't there, check out more photos, video and the full set list - and tell us what you think.