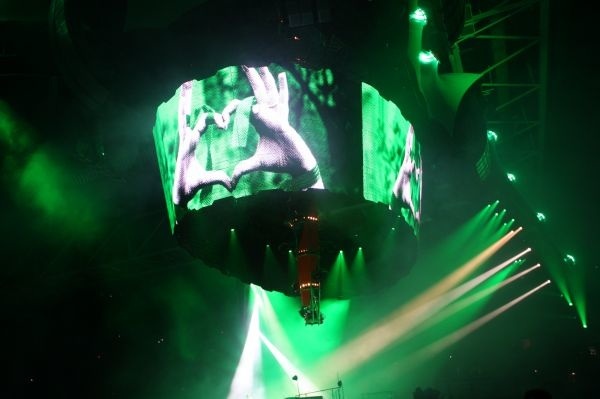 From the opening chords of Breathe (see our clip below) to the closing seconds of Moment of Surrender, it was quite a show in Dublin tonight.
At first it felt a little different because the set up in the stadium here means the show wasn't in complete 360 but the unique Dublin vibe soon took over and the set list is going to be hard to beat.
Some stand out moments? Bono slipping into 'The Auld Triangle' after Stuck In A Moment; Edge and Bono duelling with an Irish flag on the b-stage during Until The End of the World; spellbinding new video footage of the pro-democracy protestors in Iran during Sunday Bloody Sunday; 80,000 voices singing in unison 'how long to sing this song' at the close of Bad; W H Auden's 'Funeral Blues' to mark the arrival of Ultraviolet...'
So what were your highlights? Here's the set-list to remind you. Tell us all about it below.
Breathe
No Line On The Horizon
Get On Your Boots
Magnificent
Beautiful Day
Elevation
Desire
Stuck In A Moment You Can't Get Out Of
One
Until The End of the World
Unforgettable Fire
City of Blinding Lights
Vertigo
I'll Go Crazy If I Don't Go Crazy Tonight (Remix)
Sunday Bloody Sunday
Pride (In The Name of Love)
MLK
Walk On
Where The Streets Have No Name
Bad
--------
Ultraviolet
With Or Without You
Moment of Surrender