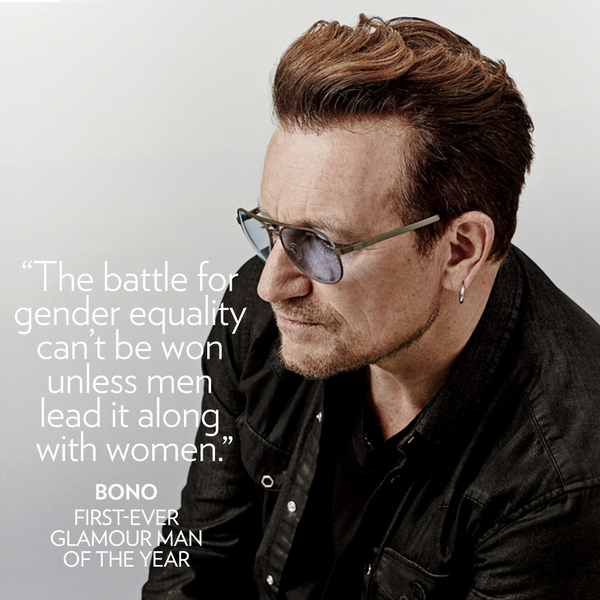 Later this month Bono will be honoured as the first 'Man of the Year' at Glamour Magazine's annual 'Women of the Year' awards.
The award recognises Bono's leadership, through ONE and RED, in campaigning for the rights of women and girls in the fight against global poverty - in particular ONE's #PovertyisSexist campaign.
Cindi Leive, editor-in-chief of Glamour, said, "The idea that a man who could select any cause in the world to call his own, or no cause at all, is choosing to work, and not just for one night or at a special event, but consistently — day after day and month after month — on behalf of women is incredibly cool and absolutely deserves applause."
"As an activist," said Melinda Gates, "He's using those skills to get the world talking about the fact that ending extreme poverty begins with empowering women and girls."
Bono told Glamour he was grateful for the award because it's a chance to say that men have to get involved in the campaign for gender equality. "We're largely responsible for the problem, so we have to be involved in the solutions.
"We can do much more than we think we can. Leaders are accountable to all of us. If they don't support women and girls, vote them out of office. To quote Nelson Mandela, 'It always seems impossible—until it's done.' "
The 2016 Women of the Year winners who will be honoured at the November 14 Los Angeles ceremony are Olympic gymnast Simone Biles; Black Lives Matter founders Patrisse Cullors, Alicia Garza, and Opal Tometi; Stanford sexual assault survivor Emily Doe; model and body activist Ashley Graham; International Monetary Fund Managing Director and Lifetime Achievement winner Christine Lagarde; anti-ISIS activist Nadia Murad; designer Miuccia Prada; singer and style icon Gwen Stefani; and actress and activist Zendaya.
Here's why CNN's Christiane Amanpour believes 'Bono is the perfect choice for this first-time honor'.