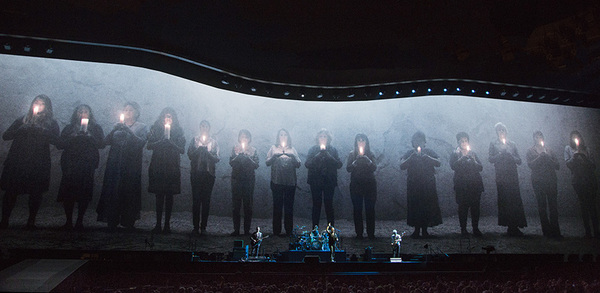 'Midnight, our sons and daughters…'
When & Where
Wednesday, October 11th 2017, Estado Unico De La Plata, Buenos Aires, Argentina.
Night 46 of #U2TheJoshuaTree2017 Tour.
Each night of The Joshua Tree tour is a unique event but Night 1 in Buenos Aires was always going to be a tough act to follow. No Messi hat-trick as a warm-up tonight… but great performances again from local band Joystick and NGHFB. The singer laid any doubts to rest as to what the hopes for this show were, as the opening bars of Bad chimed out around this legendary stadium. A short refrain from Van Morrison's 'Into The Mystic' and then "There is nowhere we would rather be tonight… in the words of Jorge Luis Borges, 'Estar contigo o no estar contigo es la medida de mi tiempo…' ('Being with you or not being with you is the measure of my time.'
Set List. Act 1 : Sunday Bloody Sunday, New Years Day, Bad, Pride. Act 2 : The Joshua Tree cassette, sides 1 & 2. Act 3 : Beautiful Day, Elevation, Vertigo, You're The Best Thing About Me, Ultra Violet (Light My Way). One, I Will Follow.
Here's the complete set list from Argentina 2
Social Posts
@PabloPanatti (via Twitter): 'Trenendo concierto. Altísimo vuelo musical y visual. Disfruté cada minuto'
(translated : 'tremendous concert. High musical and visual flight. I enjoyed every minute')
Patricia_Arg (via Zootopia): 'Unforgettable night in La Plata yesterday. I listen to U2 since I was 11 years old, being able to enjoy their music live in my own country is a dream come true. We, the Argentinians tend to be quite noisy at gigs: jumping, singing out loud, clapping etc and Bono seemed to enjoy that, encouraging us to keep on doing it! I was absolutely touched by the way these guys connect with people, simple details and words that let you know that they care about the country they visit, I think that is what makes that each show wherever they perform is unique and you feel so close to them. Very special moment when they played Mothers of the Disappeared and I also felt very emotional with Ultraviolet watching the images on the giant screen.
Last night I was at the Red Zone. Being so close to the stage allowed me to watch also the work of the U2 crew. It's not only all the work before the show, the huge amount of work these people do, is remarkable. Taking care of everything, not only what happens on stage, also taking care of our safety. Special thanks to them all for taking care of us.
At the end of the show, after performing One, U2 was waving goodbye, and decided to play one more, 'I Will Follow'. We went WILD! I jumped and sung like crazy! I will never forget this night, my soul felt pure joy'.
In The Press : (courtesy of mod Max Tsukino)
El Clarin, an interview with Adam and Edge
Minuto a Minuto. An article about the letter Bono wrote to the family of Santiago Maldonado, an activist who went missing after police cleared protesters from a highway more than two months ago.
If you had to pick one song (well, two)
Mothers of the Disappeared… in the city where the mothers and fathers still hear their heartbeat.
and
'This is where it all started, our first song on Island Records.' Words ahead of the perfect end to two great nights and the full band version of "I Will Follow" (and, for those who are counting, @U2gigs noted right away on Twitter: 'I wish U2 had in fact played their first ever single on Island Records - that was 11 O'clock Tick Tock!')
What else did Bono say :
(Just ahead of ISHFWILF) 'In La Plata, las calles solo tienen número...I guess we finally found it…. ... I guess we found it!'
Review on U2.com
patriciaguzman1213. 'Most two magical evenings ever!!!!I thought 360º tour was impossible to overcome. I was wrong. They did it once again!!!!!!! #U2reachingperfection!'
AdriFuster12 ' One more!!! A beautiful night, full of emotions and messages that make us see that a better world is possible. You're the best. I carry you in my soul. Gracias Totales!'
Other Noteworthy Stuff.
One of the event security team, Gabrielle was invited up on to the stage towards the end of WOWY. With perfect timing, as the screen images fired up the intro to BTBS, Bono asked her "you're keeping us safe aren't you? Not all cops are keeping us safe…"
Bad included a moving snippet from 'Gracias a La Vida' (Thanks to Life), a Violeta Parra song. Violeta Parra was a Chilean folk songwriter and this song was made popular throughout Latin America by Mercedes Sosa, an Argentinian folk singer (also by Joan Baez in the US).
El Amenazado (The Threatened One)
Gracias a la vida
Eso me ha dado tanto
Me dio dos estrellas brillantes
Que cuando los abro
Distingo perfectamente
El negro del blanco
Gracias a la vida
Eso me ha dado tanto
Dio la risa
Y me dio la gritería
Thanks to the life
That has given me so much
It gave me two bright stars
That when i open them
I perfectly distinguish
The black from the white
Thanks to the life
That has given me so much
It gave the laughter
And it gave me the crying
Were you at the second show in Buenos Aires? Tell us all about it. Add your own review and photos on our tour pages.