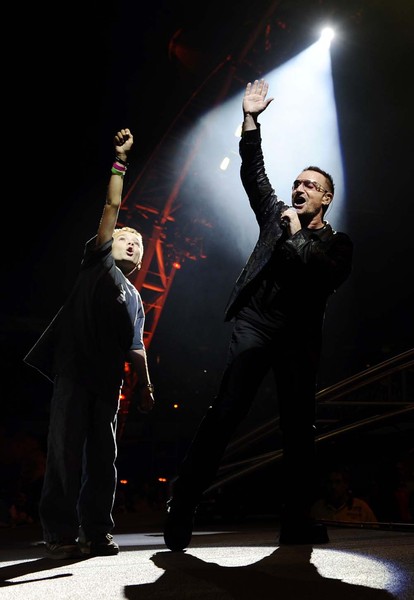 The band mixed up the set for the second night in Toronto. 'Now that sounds like appreciation,' said Bono, at the beginning of the show, and it really did.
Same size of audience here for the second show in Toronto, but they seemed to make double the noise - never more than when Edge joined the vocal for Stuck in a Moment. But the stand-out moment had to be the arrival on stage of a young boy during Unforgettable Fire who lapped the stage with Bono and then got to wear his shades.
Best view of the show tonight? The sound might not have been so great but it must have been a pretty spectacular perspective for all those people going up and down in the CN Tower. Daniel Lanois, co-producer of 'No Line' and most influential Canadian in the U2 story was here - must have been great to see the way the new songs have made the transition from the studio to the stadium.
Here's what they played.
Send us your reviews - and add your photos.
Breathe
No Line on the Horizon
Get on Your Boots
Magnificent
Mysterious Ways
Beautiful Day
Elevation
Still Haven't Found
Unknown Caller
New Year's Day
Stuck In A Moment
Unforgettable Fire
City of Blinding Lights
Vertigo
I'll Go Crazy If I don't Go Crazy Tonight Remix
Sunday Bloody Sunday
MLK
Walk On
One
Streets
Ultraviolet
With or Without You
Moment of Surrender