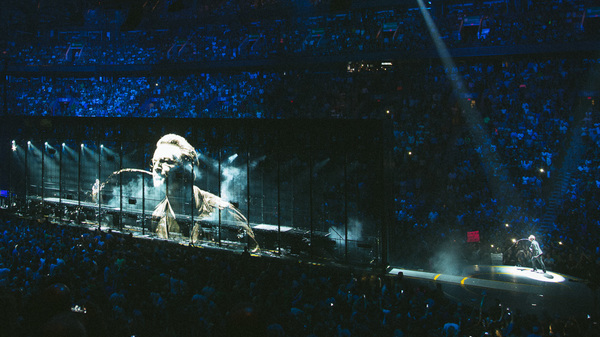 Opening with 'The Miracle (of Joey Ramone)' in Vancouver, 37 shows later #U2ie finished up in New York City with '40'. How long to sing this song? Nearly three months... and so many highlights. Here's some of ours, add yours in the comments - and tell us what you're looking forward to when the tour resumes in Turin.
'By You, Brand New…'
What a way to open a show. Every night. 'The Miracle (of Joey Ramone)'.


'I wanna feel sunlight on my face...'
In New York, fansite atu2.com were celebrating their twentieth birthday at a special party… when who should show up but Adam and Edge.
'This Is A Song…'
Beautiful video animates this track in the show, but for the single release, it came with striking performances from Woody Harrelson and Zoe Harrelson. Song For Someone.
'Everybody's famous here but nobody's known…'
Want to follow the tour up close and personal? Got to be on Instagram. The band got into it big time.
'Street sounds like a symphony…'
What are you hoping for when the band turn up on the 'e' stage? You're never disappointed if they play Angel of Harlem.


'Lover, I'm off the streets...'
And you're never disappointed if they play Desire. Least of all when Jimmy Fallon climbs out of the audience and grabs the mic.


'Shout, shout...'
Every night there was seven or eight tracks from the latest album and always a couple from the first. Like The Electric Co.


'Are We Tough Enough...'
Who else but Lady Gaga, taking over the piano and sharing vocals for Ordinary Love at Madison Square Garden.
'Only To Be With You…'
Bruce Springsteen in the house, for the closing night in North America.