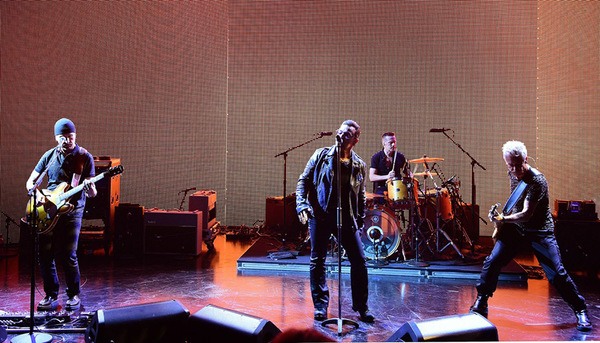 It started with
Ordinary Love
and ended with news of the
iNNOCENCE & eXPERIENCE Tour 2015
. That was twelve months we were waiting for... and here's some of the highlights.
A New Song - Ordinary Love
The band wrote a new song, 'Ordinary Love', for the movie 'Mandela: Long Walk To Freedom'. It was released on 10-inch vinyl to mark Record Store Day. Oliver Jeffers and Mac Premo made a
beautiful lyric video to accompany it
.
A Golden Globe Win
Ordinary Love took home 'Best Original Song' at the 71st Golden Globe Awards in Los Angeles.
Everyone was on hand to pick it up
.
Performing At The Oscars
The song was also nominated for an Oscar - and the band performed at the ceremony. They talked to The Hollywood Reporter. 'For our generation,' explained Adam. 'South Africa was a real illustration of how music could affect change in the world, and it was
a rite of passage in terms of our political awareness.'
(The Oscar went to 'Let It Go' from 'Frozen')
Another New Song - Invisible
'I'm more than you know/ I'm more than you see here/ I'm more than you let me be/ I'm more than you know...'
In February, the band released another new song. 'Invisible' was downloaded more than 3million times in 36 hours,
raising over $3million for (RED) in the fight against AIDS.
A New Album - Songs of Innocence
In September the band took everyone by surprise. At the launch of the new iPhone and Apple Watch, U2 took the stage to perform a new song 'The Miracle (Of Joey Ramone)'. Then Bono told Tim Cook about U2's new album... which Apple had already placed in the music libraries of 500 million customers in 119 countries. Welcome 'Songs Of Innocence.'
Watch the whole event here
.

A New Video - The Miracle (Of Joey Ramone)
'I was chasing down the days of fear/Chasing down a dream before it disappeared...'
Some Questions Answered... on Facebook
From the iTunes release to Benedict Cumberbatch, from why Larry and Adam don't have 'cool names' ... to
what rockstars smell like. More New Songs... and Acoustic Sessions
Bonus tracks, acoustic sessions, special formats. When Songs of Innocence was released on CD and Vinyl there were
more songs, more mixes... and a beautiful six song acoustic session.The Cover of Time
The band made the cover of Time again, telling Catherine Mayer
'about another new album in the works—and its secret Apple project that might just save the music industry.'
Stripped Back and Playing Live

Through October and November half a dozen of the new songs were performed live for the first time, often accompanied by a string quintet.
California, Volcano, Song For Someone, The Miracle (Of Joey Ramone), Cedarwood Road and Every Breaking Wave
.
Opening in 2015 - A New Tour.
'We're going to try to have a completely different feeling from night one to night two,' explained Bono, 'and have some fun
playing with the idea of innocence and experience.' A Collection of Films (To Go With The Album)
In December the band unveiled a new artistic initiative in the form of Films of Innocence: a series of 11 films of the most vital urban visual artists, each
inspired by one of the 11 tracks on U2's Songs of Innocence album.