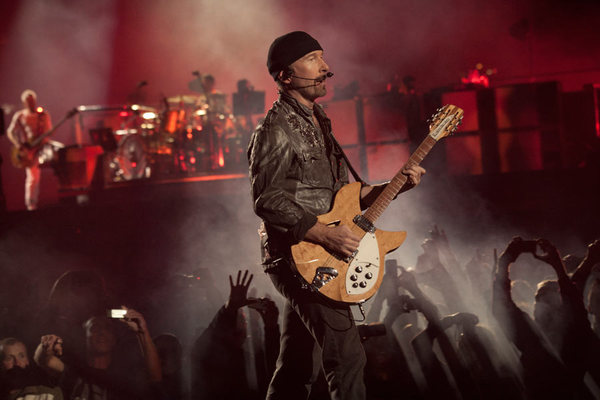 Opening with The Return of the Stingray Guitar and featuring  North Star and Mercy, tonight's show included three of the five new tracks the band have premiered on the current 360 European leg.
'Great  show, such energy,' as one of our first reviewers puts it. 'Really good to get 3 of the gorgeous new songs, Wonderful set list'
MLK was also back, in place of Mothers of the Disappeared, and Hold Me Thrill Me, in place of Ultraviolet. The white balloons blanketed the Stade de France tonight and we had a record-breaking concert audience here of ninety six thousand. Bono introduced the band in French much  to everyone's  delight.
'The guys were at the top,' says another of our reviewers. 'Tthe sound was great, the set list too, the audience and the energy were fantastic, it was simply magic and amazing. What a show, what a band, what a night in Paris It was only rock'n roll, and i've liked it... '
Plenty of well-known names here too from fashion and the arts -  Fabien Verschaere, David Guettta, Helena Christensen and Marion Cotillard, Petra Nemcova - to politics, including French  Minister for Culture  Jack Lang and Minister for Finance, Christine Lagarde as well as Irish Ambassador Patrick Kavanagh.
'Multiple highlights,' writes another fan. 'The new staging of Walk On is wonderful and affecting, B-Man calling out the French Government in SBS reminded me why they are the last relevant band on earth, Mercy and Amazing Grace / Streets. What a segue...'
A big, bold, bright Saturday night show, third and final time in Paris for the 360 Tour and a memorable way to sign off. But if you were there tonight, you'll have your own special surprises and highlights. 
Add your own review and upload your photos to our Tour Pages.