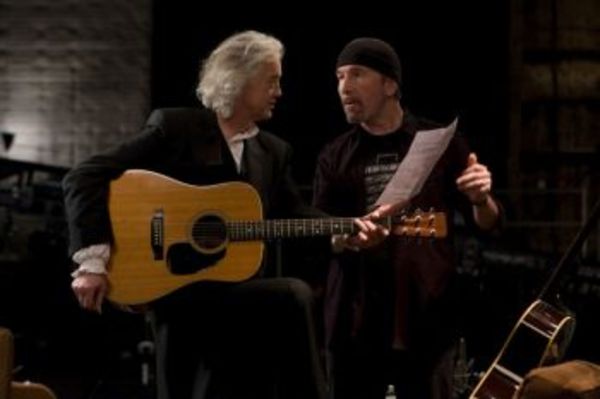 The Irish Film Institute in Dublin's Temple Bar was the location for a
charity premiere
of the Davis Guggenheim directed documentary. On a frozen night Edge provided some warm words - and good gags - before the screening: 'Jack White and Jimmy Page couldn't be here tonight but I don't think you'll miss them too much!'
With Bono, Gavin Friday and other friends in the house, Edge made special mention of a couple of teachers from Mount Temple Comprehensive, where Larry, Adam, Bono and Edge first rehearsed together - and which features in the film. 'They were the leading force in getting the band going in the first place.'
After the screening, Gavin told Hot Press he'd been impressed. 'I thought it was brilliant. I'd been a little bit worried about the way it might shape up, but it works and it works really well.
'What's great about it is that it's a film about music. When you think of all the crap we're subjected to on television at the moment, and the awful state that the music industry is in, this is totally refreshing.
'This is what it is really all about - or should be. They're talking about musicianship, about creativity. I think it's a wonderful film.'
In case this is all new to you, the film brings together Edge, Jimmy Page and Jack White to share their passion for the electric guitar.
'Discover Jimmy Page's first appearance on TV as a skiffle-playing adolescent. Revisit the humble venue for U2's first gig - a playground ledge in Dublin. And learn how to make an electric guitar, Jack White-style, with a piece of old wood and some rusty nails.'
It opened to great reviews in the US. 'In nearly every moment, an incredibly rich mix of their music, groundbreaking, defining, which alone would be almost enough,' said the LA Times. 'That it comes with a righteous story too is a lovely bonus.'
Check out the photos in our
It Might Get Loud gallery
and
the official site
which carries details of the DVD which is now released in North America.
It Might Get Loud is now showing at the Irish Film Institute in Dublin and from later this week at Queens' Belfast. In the UK you can find it in Norwich, Brighton, Birmingham, Southampton, Oxford, Aberdeen, York, Henley, Cambridge, London (Greenwich, Brixton, Hammersmith), Liverpool, Derby, Glasgow, Bristol, Sheffield, Nottingham, Leicester.
Read about 'It Might Get Loud'
in our earlier story
and get a feel for it in this advance trailer.
Also
available
on DVD in the US from 22nd December