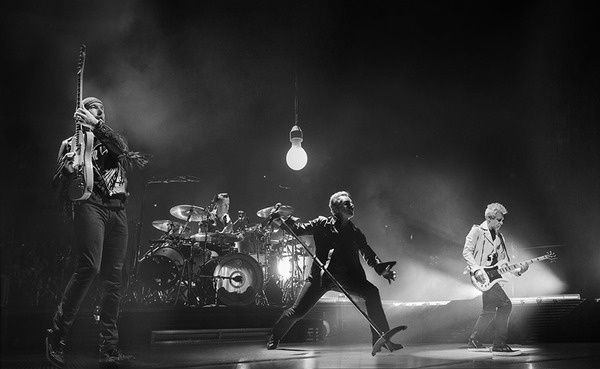 Gloria was back in the set tonight and led to a special mention for Steve Lillywhite, who produced the band's first three albums and has worked with them on many since.
With October getting another surprise turn on the 'e' stage before Every Breaking Wave, that's the first time in 25 years (noted by @U2gigs) that two songs from October (the album) have been performed on the same night.
And their original producer (@sillywhite) was straight out on twitter: 'Namecheck from Bono at the end of Gloria! BOOOOOOOOM!'
Another sweltering day but the AC at MSG, as Bono pointed out, is a little more effective these days.
'New York City look at you. We're going to turn up the temperature. Irish people don't complain about the heat. The only heat we don't like is humidity. This is definitely the 2nd greatest city in the world....'
The reviewer in the New York Times sensed the show was about eroding division.
'... the conceit here is to consistently merge the two stages, in a sense, and to engage the entire space visually, sonically and thematically, through the interplay of many other opposites extrapolated from the central one. These include past and present, obscurity and fame, peace and war, audience and band, punk and statesman, grass-roots activism and corporate philanthropy, live action and animation. Basically, where the band saw a perceived division, it tried to erode it.'
October itself was dedicated to 'two heroes of ours - Mark Kelly and Gabby Giffords' and there were lots of other shout outs, notably before Paul Simon's 'Mother and Child Reunion' putting the spotlight on the global fight against HIV/AIDS.
Special thanks to artists, activists and politicians in the house including Chris Martin, Ronald Perelman, Lindsey Graham and Chris Coons. 'Democrats and Republicans working together...'
All in all, reported The North Jersey Record the show 'pulls off the feat of being both visually stunning and a cohesive artistic statement, while also offering some of the most ferocious rock-and-roll you're likely to hear in an arena this year.'
The night closed with I Still Haven't Found What I'm Looking For, a song containing its own answer.
'To answer the question why this band is refusing to give it a rest, we offer you this song...'
There's a few of our highlights, what were yours? Were you at the show? What were your unforgettable moments? Post your own review of the second night in New York City and add your photos here.