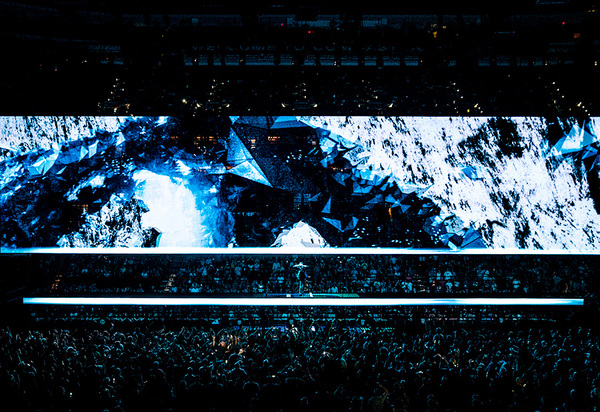 'One' in Washington DC.
'One love, one blood, one life, you got to do what you should.
One life with each other: sisters, brothers.
One life, but we're not the same.
We get to carry each other, carry each other.
One, one.….'
'One' on the second night of two in Washington DC.
When & Where
Monday June 18th 2018, Capitol One Arena. Washington DC. Final night in the US Capital, show number 21 of U2eiTour.
Set List
'All Because Of You' takes 5th spot tonight after missing one show - here's the full set list.
On The Socials
michaelavolio (via Instagram) U2 concert in DC tonight: creativity, heart, and outstanding performances of some stellar songs. I respected the band's bold choice to play nothing from The Joshua Tree, and they have such a strong back catalog that they pulled that off! It was such a treat to hear "Acrobat" from my favorite U2 album, Achtung Baby, and I was excited and also surprisingly moved by the song - "and I'd join the movement if there was one I could believe in/I'd break bread and wine if there was a church I could receive in." Also moved by "Pride (In the Name of Love)" and "Beautiful Day" (hard to believe the latter is 18 years old - there were fans at the show younger than that song!). Powerful to see images of racists in Charlottesville contrasted with images from the March on Washington and more recent protests, illustrating concretely the relevance of "Staring at the Sun" and "Pride". Points were sharply made in the Mr. MacPhisto monologue - how much the devil loves it when we pretend he doesn't exist and when we use the Bible to justify horrors like tearing children away from their parents. Amazing use of the stages and walk-through, sometimes-see-through screens - U2 always puts on an incredible show from a spectacle perspective, probably the best in popular music. The visuals added a lot to the coupling of the beautiful, personal "Iris" and "Cedarwood Road". I'm already eager for the next tour. I'd love for their next album to be the potential Rick Rubin one, with U2 writing a solid collection of songs before heading to the studio, maybe recorded like the b-stage portion of their shows (or that acoustic version of "Stuck in a Moment") - just the four of them without overdubs, guest artists, or tons of effects. (I love the effects too - their trio of '90s records is outstanding, Pop being unfairly maligned - but they're better songwriters and musicians than most pop stars who have to lean on effects.) I'd love for them to do something like an analogue blues record from a production standpoint but with their own style and sound. Like how they aimed to make each song on All That You Can't Leave Behind strong enough to be a single. "I believe my best days are ahead..."
@HarishaBast (via Twitter) I needed U2 tonight. DC needed U2 tonight. America needed U2 tonight (and the world as well). And they delivered!
@FitzFox5DC (via Twitter) I've been seeing #U2 for 34 years. From NYC's Radio City Music Hall in 1984, to tonight in DC's Capital One Arena. They've never failed to entertain, provoke, comfort and inspire. As an Irish-American, they're one of the greatest gifts Ireland's given the world.
@aayush_ks (via Twitter) I have grown from the innocence of a teenager in Mumbai wondering if I'd ever see them perform, to the experience of having seen them live three times. Thank you, @U2 for another great night! I feel extremely fortunate and privileged.
Experience(s) Of The Day
fieldshelen (via Instagram) 2nd DC show: even better than the first. Thanks, @u2! Also, fun fact: I am currently visible in@U2's Instagram story - look for me in the video of Adam hugging one woman and taking a selfie with another. I was standing behind them with a big dumb grin. :D
@writergeek313 (via Instagram) I told Adam we share a birthday and he gave me a big smile.
What did Bono Say?
'Thank you for listening to our story… it is our story… cos even now (that) I'm gonna take you down a street I grew up on… its ok to think about the people or places that shaped you, made you who your are… you're friends, you're enemies… all of them essential, they certainly were for me… (into Cedarwood Road)
(As Macphisto) - 'I'm having somewhat of a comeback just of late…so nice to be in the capital when you're all fighting amongst yourselves… I especially love people using the Bible to justify anything they want!… Wonderful.. Bravo!' (intro to 'Acrobat')… Make it personal - I love it when you get personal in your insults with each other… Oh, and DC - its when you don't believe I exist, thats when I do my best work…''
"Back in the Capital, its our second night, its even crazier than last night. I met this gorgeous fan outside… she asked me to draw a tattoo on her arm.. she'd been sleeping in a queue to get a good spot and she's very cool.. she's 74 though.. it's kind of amazing!'
"Dreamers from Dublin… Dreamers from across the border… Dreamers trapped at the border… and we song to those who would use the Holy Scripture to justify tearing children from the arms of their mother... we put the record straight, what Jesus said : 'Suffer the little children, forbid them not to come onto me'... Not make the little children suffer… that is not America. (During Pride)
On The Fansites
Fernanda Bottini for atu2.com 'Monday's show was the second night of the Experience + Innocence Tour in Washington, D.C. U2 performed the usual set list at the Capital One Arena, except "All Because Of You" replaced "Gloria," which was played Sunday. "We're a band from North Side of Dublin. If you let us in, we'll never leave," Bono said during "I Will Follow." "Washington Capitals right in front of you," was the shout-out during "Beautiful Day." The show had a lot of political references to U.S. immigration policy. "I especially love people that use the Bible to justify whatever they want," MacPhisto said. "Willful blindness can tear apart a family or a country," he said during "Staring At The Sun." Bono also talked about "dreamers caged at the borders" before "Pride." "This is not America. Who is America? Where is America?" he questioned. And finally, during "City Of Blinding Lights," he said that "the city shining on the hills belongs to everyone."
If you were at the show, add your own photos and reviews below.
And don't forget - #WomenoftheWorldTakeOver.
Ahead of the show, why not... SING IT. RECORD IT. POST IT.
Sing the song, share it online. Join the movement.