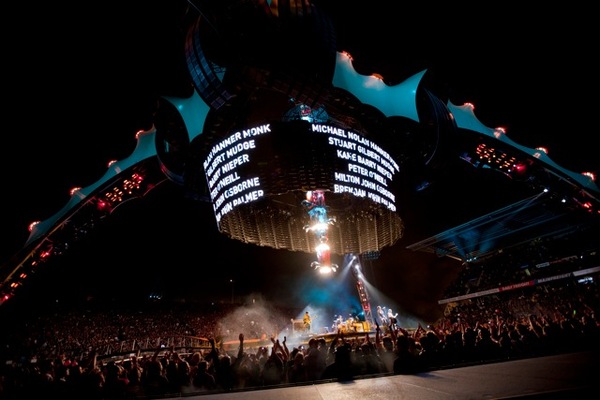 The  band were back on stage at Mt Smart Stadium  in Auckland tonight and from the first bars of The Return of the Stingray Guitar there was no doubting that  this capacity audience were going to make this a memorable night.
With a breathtaking sequence of eight tracks from 'Beautiful Day' to 'Still Haven't Found', the most moving moment of the night arrived with the opening chords of One Tree Hill, a song originally written for New Zealander Greg Carroll - and the only U2 track solely released as a single in this country.
Tonight One Tree Hill has still greater resonance, dedicated to the miners who have lost their lives in the accident at the Pike River mine on the South Island. 'At a time like this when your hearts must be so raw...' said Bono. 'People deal with grief in different ways. In Ireland we sing...'
As he paid tribute to the miners and the 'unspeakable loss' felt by their loved ones, the names of all 29 men illuminated the huge screens above the 360 stage and we were experiencing one of those unique moments in the U2 live story. At the same time a great sea of red balloons were released from the audience, climbing high into the sky. 'This is for your 29 lost to this earth but not to the eternal...'
As one fan tweeting live from the show puts it, 'U2 and the dedication to the miners was the most heartfelt and amazing moment in a concert ever.'
Having opened up the night with a great set himself, Jay-Z was back on stage for another special moment, rapping with Bono on Sunday  Bloody Sunday  - as he did in Berlin in 2009 to mark the twentieth anniversary celebrations of the fall of the Wall.
Then a little piece of U2 history: a debut live concert performance  of Scarlet, from 1981's October album, an elegiac celebration to mark the release from house-arrest of Aung San Suu Kyi in Burma - with Jay-Z rapping her name. 'She's finally free...' said Bono, thanking U2 fans all over who have campaigned for her freedom in recent years.
Some highlights from us of a powerful opening night in Auckland. Were you at the show? Tell us what it felt like and
add your own reviews and photos on our Tour Pages
.