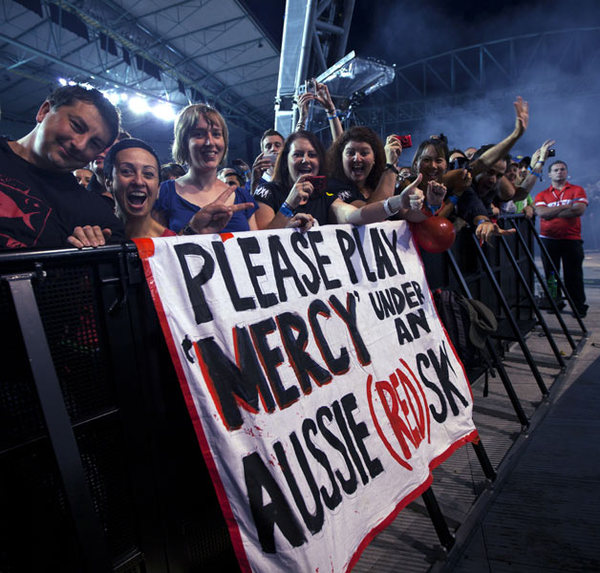 Mercy and Bad in the show as the band mix up the set list for the opening night in Melbourne.
Edge and Bono opened the show from the b-stage tonight, coming round to meet during The Return of the Stingray Guitar. 'G'day!' said Bono, slipping effortlessly into the local language,  and with that came the opening bars of Beautiful Day and it all kicked off.
It's been four years since the band were last here and it was pretty clear from the off that we were going to have a night to remember.
'What do you think of our space station? It's taken us all over the place and tonight it brings us down under.
'Good to be back in Australia and in Melbourne in particular,' added Bono. 'We feel at home in Melbourne.'
Plenty of thanks and name-checks tonight including Michael Coppel ('been promoting us since we first played in Australia') and an old friend, Natalia Imbruglia, who is in the house.
'We've been doing this a while, Adam, Edge, Larry and I,  and we're still figuring out so much musically, spiritually  - keep coming to see us we're still pilgrims.'
On
World AIDS Day
, a special word of thanks: 'I want to thank all the fans in the red zones who are paying for medications for people who need them. We have 5 million people on life saving drugs but there's still 10 million people who are still denied access to anti retrovirals....'
Our highlights  of this opening night of eight in Australia were a storming version of 'Boots' with Larry Mullen standing up at the drum kit and the reception for Magnificent when Bono asked, 'Where are we going? St Kilda, Fitzroy. Richmond. Melbourne...'
And after promising new music for audiences here, Bono was true to his word: 'Let's play you a new song. Brand new song. This is Mercy.' Coupling that with Bad was a show-stopping moment in the set, matched only by the reception for Miss Sarajevo.
Were you at the show tonight? Let us know what you thought. 
check the set-list and add your own reviews and photos
.