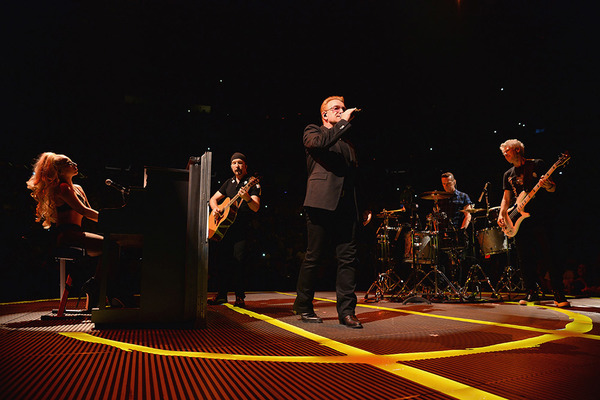 This show never fails to surprise. Tonight, after Makiko, from Tokyo (wearing a kimono, an Irish flag on her ceremonial fan) filmed Elevation for the 'Meerkat Moment', Bono was scanning the house for someone who might be able to play a piano.
Rising like a vision from the audience, up onto the stage stepped Lady Gaga, hugging the band members, before taking over the keyboard and sharing vocals for a raw and tender version of Ordinary Love.
'We can't fall any further if, we can't feel ordinary love.
And we cannot reach any higher, if we can't deal with ordinary love...'
'Ordinary Love, an extraordinary girl, Lady Gaga,' as Bono put it and, after she left the stage to a rapturous reception, 'Princess, Queen, Wonder Woman of New York City...incredible.'
Lot of love for this moment online, including Gaga fan sites. 'Lady Gaga singing 'Ordinary Love' & wearing her iconic McQueen boots on stage with U2 at MSG right now.' (@gagadaily)
'The Kings and the Queen of touring. United. How iconic.'( @ROARyals)
If that was the stand-out moment of this fifth night of eight in New York City, there were plenty of other highlights - starting with Bono announcing after I Will Follow: 'It's official, this is not Sunday evening, this is so Friday evening...'
And later telling everyone that the band have decided to move in.
'New York City, Madison Square Garden. Where else you wanna be on a Friday evening? We love this place so much, we have clearly moved in. We are the Madison Square Garden House Band in residence for the summer. The Northside Boys taking your requests all week long...'
In the house band tonight, Adam Clayton ( 'the first man who believed this whole thing might be possible'), Larry Mullen ('on the drums, forever and ever eternal, Larry Mullen Jr.') and The Edge, 'who, with this brother, built his first electric guitar, and then, with his brother, blew up the garden shed that we were supposed to rehearse in. Still causing unstable chemical reactions, on guitars and everything else, The Edge.'
At the top of the show a spine-tingling Gloria referenced Van Morrison and Patti Smith while all the way at the other end of the night One took in The Beatles All You Need Is Love. It was a Sunday night like no other. 'This is a great place to go to church: Madison Square Garden with you people on a Sunday....'
Were you are the fifth night in Madison Square Garden? What were your highlights ? Post your own reviews and add your photos here.