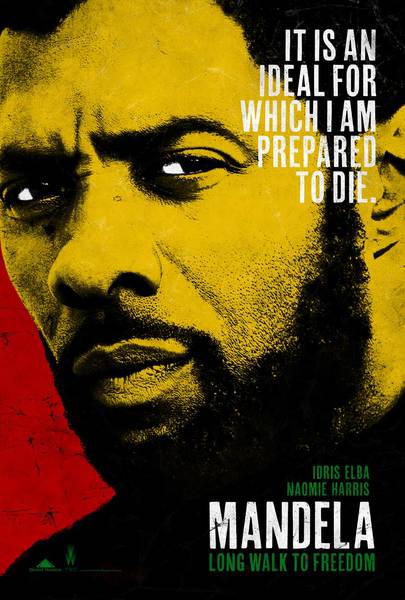 The band have written a new song, 'Ordinary Love', for the upcoming biopic
Mandela: Long Walk To Freedom
, which stars Idris Elba and Naomie Harris. Catch a clip of the new song in this movie trailer, just released.
Mandela: Long Walk To Freedom
, in theatres from November 29th, is based on South African President Nelson Mandela's autobiography. It chronicles his early life, education and 27 years in prison before becoming President and working to rebuild the country's once segregated society.
The band's friendship with Nelson Mandela goes way back and it was after seeing early cuts of the film that they were inspired to write a song.
'We are delighted to have U2 write an original song for
Mandela: Long Walk To Freedom
,' said producer Anant Singh, widely acknowledged as South Africa's preeminent film producer. 'This is really fitting as U2 has always been a staunch supporter of Madiba. As a board member of Madiba's 46664 anti AIDS initiative together with U2, I was fortunate to be with them when we visited Robben Island together, accompanied by Madiba.'
Singh, who has produced some of the most notable films made in South Africa, was personally awarded the film rights to Long Walk To Freedom by Nelson Mandela.
Harvey Weinstein, Co-Chair of producers TWC, added, 'Over the years U2 and I have had a superb relationship including partnering on the Academy Award-nominated and Golden Globe winning song 'The Hands That Built America' for Martin Scorsese's Gangs of New York. When I asked them to consider writing a song for
Mandela: Long Walk To Freedom
, it was the fastest 'yes' I have ever received. The band saw various cuts of the film over the summer and worked diligently to write a song that truly reflects Nelson Mandela. I think they did a brilliant job honoring the man and the leader they have known for over 20 years.'
Add your comments on Ordinary Love below or join the chat in
Zootopia
.