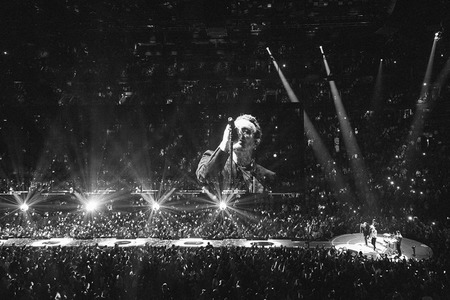 'You don't want to photograph the moment,' said Bono during Out of Control, 'You want to be in the moment.' Tonight that moment lasted for two and a half hours and we were all in it and we were all grateful. Check out the hundreds of signs fans were holding high as the band arrived on stage.' 'Thank you...'

Someone had calculated that this was the 100th time the band had performed in the city. 'To play here so many times and still be so young and handsome....'
Up on the 'e'stage 'Party Girl' made it's tour debut. 'It's a special night. Here's a special treat...'
With a group of fans apparently paying homage to The Village People up on stage, Bono popped open the champagne and raised them a toast. 'It's a party, last show of the tour.'
'So many people realising lifelong dreams to get up on stage with @U2 this #U2ieTour We are all so happy for @SilRigote & @u2br crew tonight' (@U2Community)
Moment for another shout-out to marriage equality - Ireland passed it before the US in case you missed it - but anyway, 'It's just nice when people dress up...'
Huge reception in 'Pride' for special guest President Bill Clinton - and all his work in helping Ireland find peace, while Beautiful Day featured snippets of Springsteen's Hungry Heart and Sinatra's New York New York, and 'Helena Christensen right in front of you...'
During 'Still Haven't Found' the MSG roof nearly came off when everyone realised that that was the actual Bruce Springsteen walking out to join the band on stage. 'Give it up for our Boss' said Bono and everyone did. That sequed seamlessly into Stand By Me with the whole house singing along.


'The kid's a star,' said Bono as Bruce departed the stage .'That kid's a star! That's the greatest gift ever.'
There was only one way to follow that and with thanks to the everyone who has helped put on these shows in North America over the last three months, Bono remembered Dennis Sheehan, who passed away two months ago.
'The leader of this crew. Well, we lost him after 33 years working with us. He drove the van, he drove us up and down the streets and towns and cities of this country. His name is Dennis Sheehan. The love of his life, Pam, is here tonight. We feel very much that he is here tonight. And so, we are going to sing a song he made famous called 40.'
'How long to sing this song?
How long to sing this song...'
And as people have done for thirty three years, we sang it all the way home. There might have been the odd photograph, but mainly we were in the moment.
'We're on the sidewalk and 'HOW LONG TO SING THIS SONG' is still belting out from everyone. Surreal.' (@CBarcaSTJ)
'Walking out of MSG, everyone singing Hoooow Loooong.. Most of us crying.' (@U2_ultraviolet)
Were you at the final night in New York City? Add your own reviews and post your photos here.