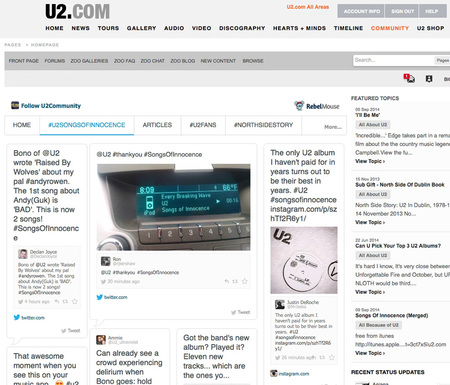 More LP news coming in, here's some of the latest.
The Irish Mirror reported on the note Bono sent to Dave Fanning, upholding the band's tradition that the DJ gets first airplay of any of their new releases.
'For the attention of right and always honourable
Dave the raving lunatic Fanning
on the occasion of U2's 13th studio long player Songs of Innocence being dropped into his hands.
'Therefore honouring ancient tribal custom and verbal agreement. 11 new songs from the era of pirate radio.'
Lykke Li, who sings on the closing album track 'The Troubles', has been speaking to
Rolling Stone
about working with the band in the studio.
'We turned off all the music and sang only to the drums, so it was really getting to what the core of the song meant. I had a wonderful time.'
'The Edge wins MVP after one listen… although you can't hear much bass on a laptop.'
That was the snap verdict of long-time friend and studio collaborator Steve Lillywhite. More instant reaction
rounded up by Hot Press,
who also caught up with another U2 legend, Paul McGuinness, manager of the band until last year.
'It's U2
yet again doing their best
work late into their career.'
Guy Oseary, who succeeded Paul as manager, talked to Billboard about the Apple connection with Songs of Innocence.
'It all came together very organically.'
There's few better places to look for reaction to the new album than the
community pages of Zootopia
. Our Mods are curating the best posts, tweets and newsfeeds, as well as delivering some cool innovations themselves, like this
slideshow of the digital book
that comes with the LP.
'Songs of Innocence' is already in your iTunes library, waiting for you to download.
On iOS
Open iTunes Store
Scroll down to Purchased
Select Recent Purchases
The album should be displayed there.
On Desktop iTunes
Open iTunes Store
Select Purchased [under Quick Links]
Select Music
Recent Purchases (make sure 'All' is selected)
The album should be displayed there.