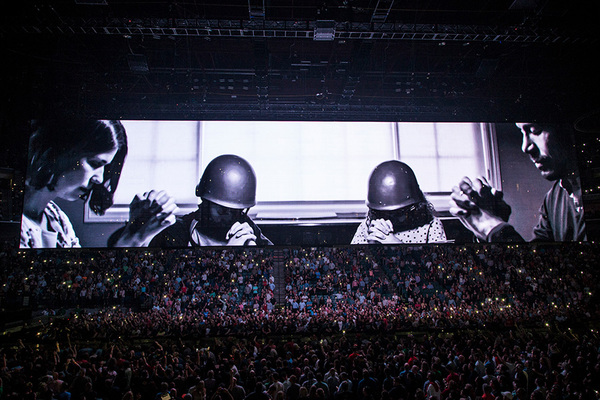 'Pride' in Washington DC.
'Fifty years ago, April four
Shot rings out in the Memphis sky.
Free at last, they took your life
They could not take your pride….'
When & Where
Sunday June 17th 2018, Capitol One Arena, first of two back to back shows in the US Capital.
Set List
Gloria returns to 5th spot tonight after missing one show - here's the set list.
In The Press
Jason Fraley for WTOP
'...The band's entrance was electric, appearing inside a giant, rectangular screen floating in the middle of the arena. The double-sided structure flashed with on-screen images before becoming intermittently transparent so we could see the band suspended in mid-air over the crowd. After a trio of new jams — "Love is All We Have Left," "The Blackout" and "Lights of Home" — the band (headed) to the main stage for a pair of old-school tracks with "I Will Follow" off their debut album "Boy" (1980) and "Gloria" off their sophomore album "October" (1981). After these five lesser-known numbers from past and present, the band unleashed arguably its most mainstream hit, "Beautiful Day," off their tenth album "All That You Can't Leave Behind" (2000). The album won seven Grammys and became the only album in history to feature two Record of the Year winners with "Beautiful Day" in 2001 and "Walk On" in 2002. Next came a deep cut with "The Ocean" off their debut album, followed by two new tracks, "Iris (Hold Me Close)" and "Cedarwood Rood," the former written about Bono's mother who died from a cerebral aneurysm at her father's funeral when Bono was 14 years old. As images of violence filled the screen, U2 drummer Larry Mullen Jr. battered a snare drum to signal the drumbeat of war in time for "Sunday Bloody Sunday" (1983)… In the end, the crowd was treated to a three encores, including a touching rendition of "One," followed by "Love is Bigger Than Anything in Its Way" and "13 (There is a Light)." As Bono introduced the "One" encore, he spoke of female empowerment and bipartisan cooperation: "We're not going to solve the world's problems with only half of the world's brainpower (i.e. women). We also need left and right. There'st too much at stake: the idea of America. The most important word in English language is 'compromise.' There is no us and them. This is one."
On The Socials
lcuba8 (via Instagram) 'U2 rocked per usual. No one can tell a story through a concert like this band.'
@Trap_33 (via Twitter) 'Had an amazing time tonight seeing U2 for the 25th time. Always moving, tonight was no different.'
@asheisele (via Twitter) 'Doesn't matter what @U2 tour I see, the next day requires Achtung Baby on repeat. Until the End of the World and Acrobat were absolute highlights last night!'
Experience(s) Of The (Father's) Day 'Lots of dads seemed to have been given / gave U2eiTour tickets as their present this year… '
JASONBENDER (via Instagram) 'Best way to spend Father's Day, taking my daughter to her first U2 concert.'
TODDCLAN (via Instagram) 'Happy Father's Day to the only person who would pay for U2 3 times, who loves long road trips but also passed on his stress-induced IBS to three children but is willing to make the necessary emergency bathroom stops along the way.'
@michealfelker (via Twitter)' Taking Hewson and Adele to @U2 tonight in DC. This will be Hewson's first show and Adele' second. Crazy excited. Best. Fathers Day. Ever.'
What did Bono Say?
"It's strange ... a man in his 50s singing about his mother on Father's Day." ('Iris')
"So nice to be in the Capitol while you're all fighting amongst yourselves. Bravo! No whatever happens ... don't mention the 'C-word' - COMPROMISE!" (Macphisto)
And a little later.. on that same word : "One word has kept our band together ... compromise."
"Sunday night. This is church for the U2 group, that's for sure."
Kimber. 'As it is Father's Day AND my husband's birthday, I got four Red Zone tickets so that our teenage sons can enjoy the thrill with us: a bass-playing 16 year-old, and a music-crazed 13 year-old.'
If you were at the show, add your own photos and reviews below.
And don't forget - #WomenoftheWorldTakeOver.
Ahead of the show, why not... SING IT. RECORD IT. POST IT.
Sing the song, share it online. Join the movement.