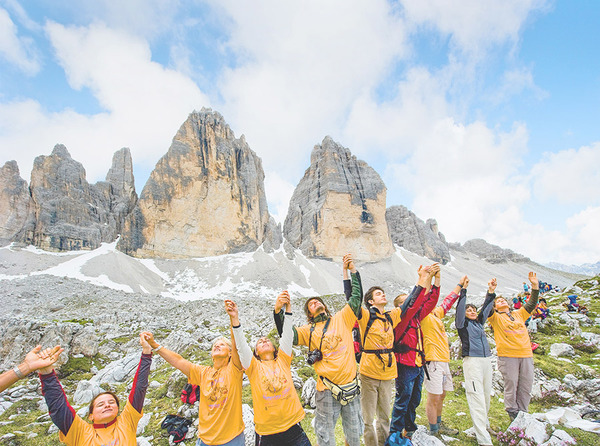 This Sunday, September 13, Art for Amnesty and Amnesty International (along with the Italian NGO Insieme Si Può) is assembling 6,000 supporters to form a 10km human chain to encircle the iconic Tre Cime mountain, 90 minutes north of Venice in the Dolomites in northern Italy.
It's all in support of Amnesty's refugees campaign, which the band are promoting on the current European dates. And it's a chance for anyone in striking distance of the Dolomites to try to throw their arms, if not around the world, then at least around the mountain, in solidarity. The event comes ahead of next week's emergency EU meetings about the refugee crisis affecting Europe.
Bill Shipsey, the barrister from Dublin who set up Art for Amnesty in 2002, has maintained Amnesty's friendship with U2 since meeting the band at the opening of the Irish Amnesty Office in 1984. "I often say that if I had a Euro for every person who told me they'd got involved with human rights or Amnesty International because of U2, I'd be very wealthy," he admits.
The focus, he explains, of Amnesty's refugees campaign - and of the human chain in Italy this weekend - "is to persuade predominantly European countries to take 380,000 of the 4 million Syrians that are recognised as refugees but are in camps in Lebanon, Jordan, Turkey and Iraq."
There are strong links and a rich heritage between Amnesty and the arts which helps the cause enormously. "If you want to get people motivated, that's where the arts and artists really come in," he says. "A song, a poem a piece of beautiful writing - they will get you many more supporters than just telling people about the universal declaration of human rights."
Indeed, the head of Refugee and Migrants Rights for Amnesty International, Sherif Elsayed-Ali, is "a young Egyptian who came to hear of Amnesty through watching poor quality U2 videos in Cairo."
The logistics for the human chain this Sunday are not simple. Six thousand people will be taken on a 45-minute journey up the mountain in 120 bus-loads. But it'll be worth it. And if there's a key message to U2 fans from Bill Shipsey, whether they can make it or not, it's this: "Take injustice personally. Whatever the issue, please take injustice personally, and act."
* * *
If you want to link arms physically with the human chain in northern Italy, you can find details of where to come and what to do here.
If you want to do something else in solidarity, Art for Amnesty is encouraging groups to form their own smaller human chains - there've already been chains formed around Wenceslas Square in Prague, and around giant redwood trees in California. Upload your photos on social media with the hashtags #humanrightschain or #refugeeswelcome. Or simply tweet your support for the human-rights chain this Sunday, again, using the hashtag #humanrightschain or #refugeeswelcome .