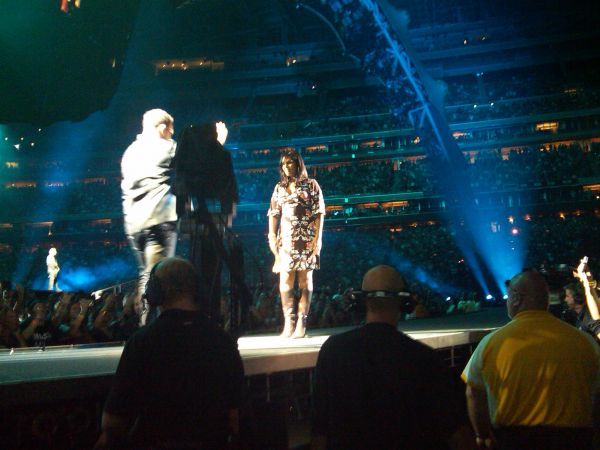 'We feel right at home here in this the home of space stations.' Quite so, the day after Bono and Edge had visited the Johnson Space Centre and spoken to the astronauts orbiting the earth. Those men and women are 'heroes to us - to you they're just next door neighbours.'
This show's been in orbit ever since Barcelona in June, but at the Reliant Stadium in Houston tonight there was more space than usual. 'Chief Flight Engineer Larry Mullen, Space Walker Adam Clayton... Houston we have no problem.'
To top it all when Your Blue Room entered the 360 orbit for one of its occasional and welcome appearances, the voices of the astronauts were speaking over the track. And who better than ZOO TV's alien space baby to show up for Ultraviolet ? Could these Texans have made any more noise? Unlikely... unless Bono muses before Moment of Surrender that 'Texas to me is the centre of the world right now'. Even more noise.
Special mention to tour cinematographer Tom Krueger, during With or Without You. 'Thanks to the our amazing U2 crew and Tom Krueger - you know how to throw a good party Tom.'
How was it for you in Houston tonight?
Tell us what it was like and post your photos
in our comments area.
Breathe
Get on Your Boots
Magnificent
Mysterious Ways
Beautiful Day
I Still Haven't Found What I'm Looking For
Stuck In A Moment
No Line on the Horizon
Elevation
Your Blue Room
Until The End of the World
Unforgettable Fire
City of Blinding Lights
Vertigo
I'll Go Crazy - Remix
Sunday Bloody Sunday
MLK
Walk On
One
Where The Streets Have No Name
Ultraviolet
With or Without You
Moment of Surrender