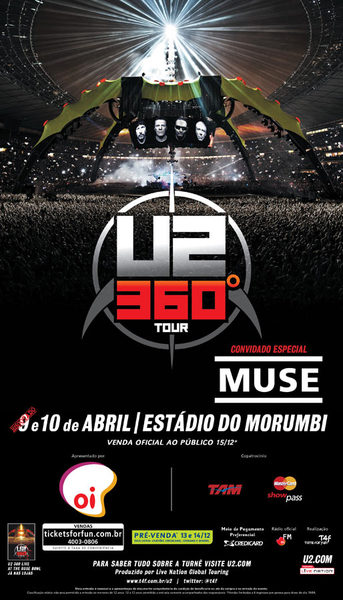 The April 9th show at the Estadio Morumbi in Sao Paulo sold out in record time today and a second show for Brazil has just been announced.
This additional show will take place on Sunday April 10th and tickets will go on sale to the general public next Wednesday December 15th.
As usual, U2.com subscribers will get the chance to take part in an advance ticket presale for this show which will open this Friday, December 10th at 10am (local) and run until Sunday December 12th at 8pm (local).
All subscribers will be emailed ahead of time with details of the presale.
Interested in becoming a U2.com subscriber and entering the ticket presales?
Here's all you need
- including news of 'U2:Duals'. This is a limited edition CD, not for sale at retail, featuring U2 collaborations with other artists.