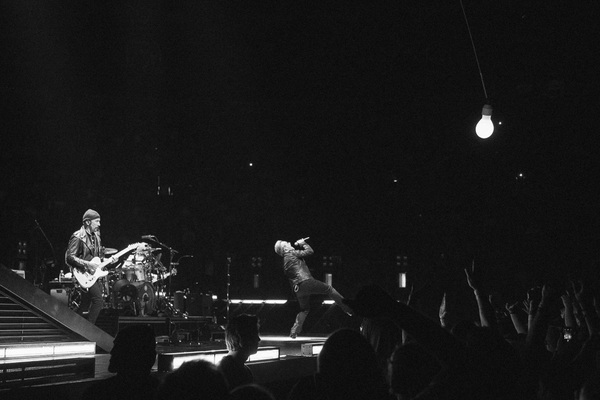 Two shows down in Chicago and here's some of the highlights.

Not been to one of the shows yet? After watching the band in Chicago, Neil Miller of UR CHICAGO, captures the vibe really well.

'That stage setup was just as much a star of the show as the music and the band. The way U2 serve up their music on this tour is impressive to say the least, but the show seemed to really be designed with the audience in mind. The band's gigantic walkway made of see through screens allowed everyone to see nearly everything that was happening onstage. Whether the band was performing inside of the setup or if they were scattered across the catwalk, there was rarely a point at which every member of the band wasn't represented to the folks even in the nosebleed seats. While this was quite a visually intense experience, it seemed scaled back compared to previous U2 tours but this is hardly to a fault. The presentation of the show fit the music perfectly, especially the toned down version of 'Sunday Bloody Sunday' and the softer moments in the show like 'Every Breaking Wave' and their tribute to Nelson Mandela, Ordinary Love.'
If the production is winning plaudits, the band are also in fine form. 'Last night was just a warm up,' announced Bono, 'This is Chicago, no messing around...' And no messing around there was. Remember that quote from @WTSHNN about the opening night in this city having the loudest crowd of the 4 cities he'd seen this tour in ? Tonight, says @jasondominy, 'I've seen @U2 on 4 different tours, and this show is just as good, if not better than any of the others I've seen' while @BurgieHoward goes further back: 'Truly one of the greatest #U2 performances I've ever experienced since first show in '83 Thank you…'
The full debut of Moment of Surrender can't be that far away, some fans are taking bets on it. Tonight the snippet was extended further leading into Bad. 'Longest MOS snippet of the tour, by far,' tweeted @mattmcgee. 'I'm certain they'll do the whole song in Europe' -
'Long snippet of Moment of Surrender leads to Bad,' added @U2gigs. 'Sixth performance of tour, back after missing three shows'. General consensus that it launches a powerful movement in the show, as captured by @mhamiltonedu. 'Moment of surrender into BAD into With or Without You might actually be the greatest thing that has happened to me'. Or to put it another way, which is what @SallieAnnG did, 'LOVE LOVE LOVE the combo of MOS-BAD-WOWY.. Just fabulous!'
That moment when an unsuspecting fan is plucked out of the audience and finds themselves on the 'e' stage, singing and dancing with the band of their dreams. That moment is often a show-stopper, the 'fourth wall' collapsing before our eyes, the audience in the band, the band in the audience. It was Marcella last night, an 'Angel of Costa Rica' for Angel of Harlem proudly holding high her Costa Rica flag. She was wonderful. 'Well, this love won't let me go....'
What shall we add? Let's leave it to Tankboy at Chicagoist, who sees the golden thread that holds this band through all these years. 'The evening could have been a marathon of greatest hits but U2 instead chose to treat it as a chance to tell their own story, through their own music - not all of it overly familiar. And it's the band's constant search to push their own boundaries that makes them feel fresh, decades into a storied career. At their heart, U2 is still that little band, practicing in a garage, and not depending on a wall of speakers to support them. Instead, they've just got some guitar strings, a few drum sticks and a voice intent on making a change...'
Were you at the second night in Chicago? What were your highlights? Post your own review and add your photos here.