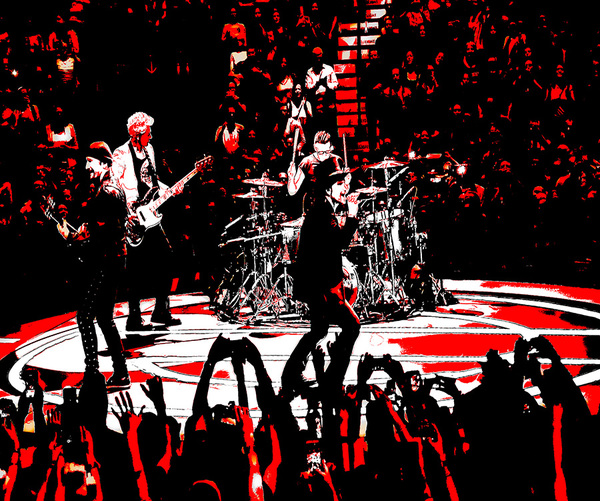 'Shout, Shout…'
'Boy, stupid boy
Don't sit at the table
Until you're able to.
Toy, broken toy
Shout, shout, you're inside out
If you don't know.
Electric Co.
If you don't know
Electric Co. ...'
When & Where
Saturday June 9th 2018, NYCB Live, Uniondale, NY. Back in the USA for Show 16 of U2eiTour.
Set List
Tour debut for The Electric Co, echoing it's performance on the band's debut in this very arena (Nassau Coliseum), on The Unforgettable Tour in 1985. Here's the set list.
On The Socials
@u2gigs (via Twitter). 'tonight's show was the first since 28 October 2005 to have three Boy songs anywhere in the setlist (only counting regular tour gigs, so excluding events like the 2015 Roxy show).'
@sb_wreeldeal (via Twitter). 'I went into this show completely spoiler free… I had no idea about Acrobat. None. It took me a few moments to figure it out and then I just went into a state of shock and then started screaming.'
@sarawarah (via Twitter). 'My 11th @U2 show in 26 years and the first I ever saw without stepping foot off Long Island. Not as many shows as some, but more than I ever thought I'd have the chance to see, and each a unique experience more amazing than the last.'
@atu2comSherry (via Twitter).'The gentleness of 13 gutted me tonight.'
In The Press
Kimberly Dijkstra for Long Island Weekly.
'U2 played a sold-out show at NYCB Live, home of the Nassau Coliseum, on Saturday, supporting their 2017 album Songs of Experience. The eXPERIENCE + iNNOCENCE Tour highlights the experiences that shaped Bono's life and features many scarcely played gems. "What's the use of innocence? Experience is so much more fun!" Bono quipped. As one of the most famous bands in the world, U2 went big, as expected. A traditional stage was connected to a round platform by a long walkway that sliced sharply through the crowd on the floor. The path, dripping with digital sparkles, was flanked by see-through LED video screens, sometimes trapping the band members inside and sometimes allowing them to interact with the digital imagery in a wondrous way. Coming off 2017's The Joshua Tree Tour, U2 chose to leave out some of their biggest hits—"Where The Streets Have No Name," "I Still Haven't Found What I'm Looking For" and "With Or Without You"—from that album, as well as "New Year's Day" and "Mysterious Ways," which in the past have made frequent appearances. It's hard to complain about the lack of Joshua Tree tunes when their absence left room for so many rarities, including "Acrobat" from Achtung Baby, "The Electric Co.," a tour debut, "The Ocean," both from Boy and "Staring at the Sun," when Bono grinningly acknowledged their "psychedelic period" called Pop…
...The band used the pre-encore intermission to promote #WomenOfTheWorldTakeOver to Jim O'Rourke's "Women of the World." Fans can lend their voices to that song by going to one.org. "We are reminded by our daughters that the world's problems will not be solved without using all of the brains we have on the planet," said Bono.'
Experience(s) Of The Day
@krisrosulli (via Instagram) 'Last night, I finally crossed off @u2 on my concert bucket list! We had tickets to the Joshua Tree tour last year while pregnant with Gavin, and by some cruel twist of fate, I ended up practically on bed rest for only a few days and ended up missing the concert. But last night, they were sooooo good! So soulful, so talented. Totally cried with tears steaming down my face during the encore…'
What did Bono Say?
"the boy tries… and fails.. to hold on to his innocence… only later to discover at the far end of experience, with some wisdom, and some good company… he can again recover that same innocence… or a version of it". (The Ocean)
"I am one quarter of an artist without Edge, Adam, and Larry. I am one half of a person without my partner, Ali."
Review On U2.com / Zootopia
bgans. Incredible, emotional evening. I was at the show with my teenage daughter. So much of the show was about parents and children - Bono talking about his parents, singing about his children, clearly thinking about family. It was wonderful to be able to share it with my own child. I was last at Nassau Coliseum to see U2 in 1987, with my sister. 30 years later, we have all come full circle - from young, impetuous innocents to vastly more experienced parents. But for all that has changed along the way, some things remain the same - the energy, the thoughtfulness, and the pure joy that the band brings when they take the stage'.
If you were at the show, add your own photos and reviews below.
And don't forget - #WomenoftheWorldTakeOver.
SING IT. RECORD IT. POST IT.
Sing the song, share it online. Join the movement.