Gary Lightbody of Snow Patrol was so knocked out by last night's show in Katowice that he sat down and wrote us this piece.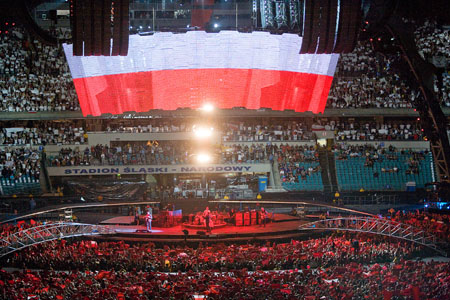 I had to write about this. I simply had to. I hope I'm not speaking out of turn here as this is U2's site and hallowed ground for all of you but this story needs to be told. The shows so far on this tour have all been amazing and each night the crowd's reaction to U2 has been loud and joyous and passionate. Last night in Poland though was something else. Hard to explain. Let me try.
I have never in my life seen a crowd reaction like that of Katowice last night. Right from opener Breathe there was a daft magic in the air. Insanity everywhere you looked. People's faces clothed in the kind of joy I've only seen in gospel churches and then only on the TV so to see this religious fervour up close was overwhelming. The city outside the stadium could have been under heavy fire from alien spacecraft and I don't think anyone would have heard, saw, or indeed cared that much.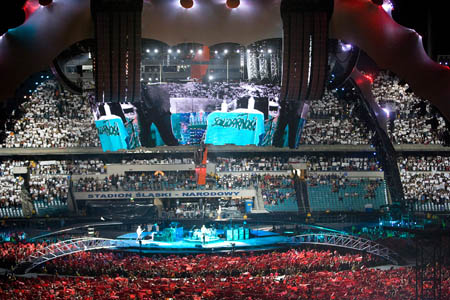 Then The Edge takes to the piano for New Year's Day (playing it guitar pick still between his fingers!) and the place is bathed in red and white instantly. Red cards held aloft by the people on the floor and white cards in the seats to make a giant Polish flag you could probably see from space. It took the breath clean out of me. By the end even Bono was speechless, for a few seconds anyway. The things he said next are lost to me verbatim but what I won't forget is the tears that came to me then. In floods. And when I turned to check if anyone had snared me for blubbing I realised that every single person around me also had tears in their eyes. We were sharing something that simply never happens at rock shows anywhere. A collective emotional and spiritual surrender of epic proportions. This was majesty and tenderness married and that is a rare thing indeed.
Last night was something I've never seen before and I can't quite fathom it. Not sure I ever will or even want to. It will sit alongside the greatest nights of my life and I thank U2 and Poland for that. Also thank you to the Polish U2 fans for giving us the best reaction to our own set we've had on this tour so far. All in all then a night of triumphs.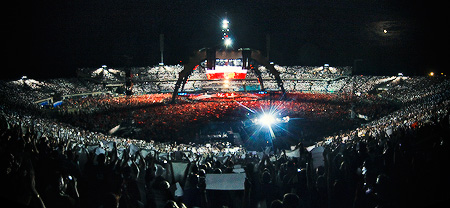 I would tour with this band (we all, us Patrollers, would) 'til the last grain of sand tipped gently into the bottom half of the hourglass and yes that sounds (and perhaps is, why not) a massive hint hint to stay on this magic carpet ride a little/a lot longer but believe me when I say this: this is the greatest show on earth. Why on earth would you buy just anyone's cockatoo? Long may they reign!
Gary Lightbody, aged 33, Bangor, Northern Ireland, Overwhelmed.x