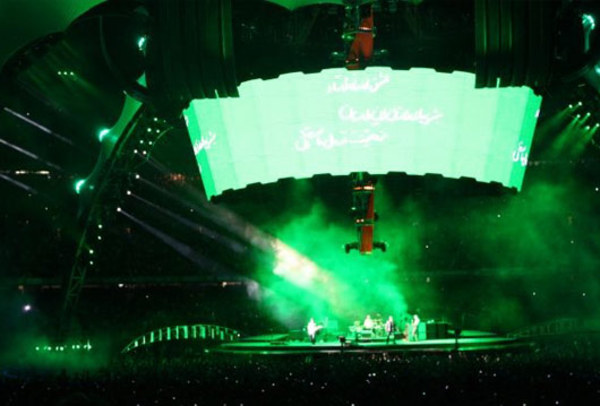 It was a hot and humid night in Barcelona for the second show of the tour and the band rang some changes from Tuesday's opener. Here's some highlights that we noted - add your own reviews at the bottom of the page. First up
the set list.
1. We got to hear 'Crazy' twice tonight: the band are shooting a video with Alex Courtez and tonight's performance is part of it. After a storming version of Vertigo, we got the very groovy dub remix of 'Crazy' that they premiered on Tuesday, complete with Larry performing on djembe while walking the circumference of the stage to general adulation. Overhead, rocking black and white images of the four members on the screens. Just before Moment of Surrender, came the 'classic coke' version as the singer put it.
2. Promising sign when a song makes its live debut, but no-one predicted it would be Electrical Storm, the 2002 single from 'The Best of 1990-2000'. 'So we'd like to play a song we've never played before, except when we recorded it,' explained Bono. 'Could be interesting... interesting is ok...' Interesting enough to be back in the set soon - we predict.
3. Angel of Harlem wasn't in tonight, but compensation came with a mini-acoustic set featuring Desire and Party Girl, with the drum riser rotating and the whole band facing the other way. Bono pulled out the harmonica and some amazonian beauty clambered up on stage, who - apparently - was once called upon to share the traditional 'party' bubbly in Argentina. Tonight, as then, she was word perfect - though it's not often a member of the audience gets to carry the lead singer. Maybe it's going to be one of those tours.
4, Unknown Caller is one of the most infectious tracks the band have written, but ever wondered what it's all about ? Tonight we got some background. It's about a guy, feeling depressed, 'at the end of his rope', in a hotel room, not able to get a signal on his phone, suddenly finds that his phone is starting to text him instructions. 'He doesn't know who it's coming from... God, his best mate... but it gets him out alive...' At which point Camp Nou restarted and rebooted itself.
5. Check out Sunday Bloody Sunday if you're at the show. First up, the previous song outros with a beautiful lilting vocal piece by (we discover) Iranian-born singer Sussan Deyhim. Then as the rhythmic opening bars of 'Sunday' arrive, the overhead spherical screens turn a luminous shade of green as farsi script script scrolls into sight. Is it a symbolic shout-out to the protestors in Iran demanding a re-run of their elections ? If you think there's a connection, discuss it
here.

Ok, that's a few stand-out moments from us. What did you think?