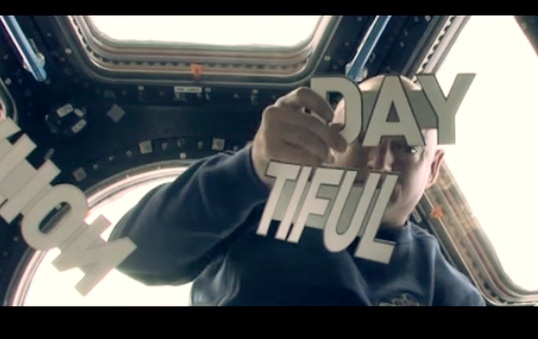 NASA Commander Mark Kelly appears at U2360° in Seattle.
U2 delivered a surprise to the crowds at Quest Field, Seattle last night with a video message from Commander Mark E. Kelly.
Bono dedicated 'Beautiful Day' to Gabby Giffords, before asking, "Imagine a man looking down on us from 200 miles up. Looking down at our beautiful crowded planet… What would he say to us…? What is on your mind Commander Kelly?"
Commander Kelly, on a 16-day mission with the Endeavour crew, recorded the message aboard the International Space Station, "Hello Seattle… from the International Space Station."
Before finishing on a line from David Bowie's 'Space Oddity' : "I'm looking forward to coming home. Tell my wife I love her very much… she knows."
U2360° has worked with NASA and the International Space Station throughout this tour - having previously linked up with Belgian astronaut Commander Frank De Winne, Michael Barratt of NASA, Bob Thirsk of the Canadian Space Agency, Koichi Wakata of the Japan Aerospace Exploration Agency, and Gennady Padalka and Roman Romanenko of the Russian Federal Space Agency as well as Cirque du Soleil founder Guy Laliberte during his visit to the International Space Station.