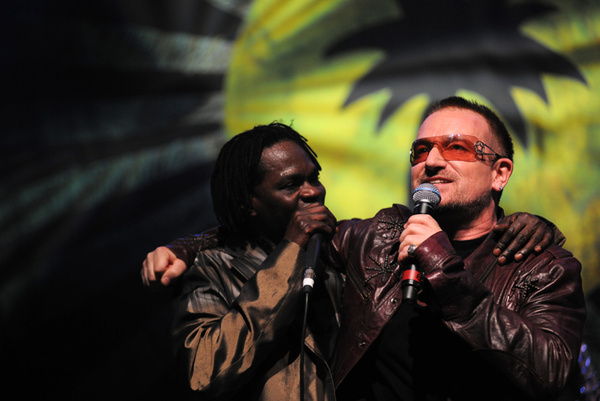 U2 joined Senegalese artist Baaba Maal on stage tonight as part of London's celebrations for Island 50.
Baaba and Yusuf Islam (Cat Stevens) were sharing the bill at Shepherd's Bush Empire. The band joined Baaba Maal for a version of U2's 0ne to the surprise of the sold out crowd.
Introducing U2 Baaba said, "I have a friend a brother who really takes care of everything. We share the respect of Nelson Mandela's vision. We need people to understand. We didn't make it yet but we are on the way. As we continue fighting poverty especially on the continent of Africa".
As Bono. The Edge, Larry and Adam joined onstage.
The room was a glow with phones in the air as the crowd took pictures of this crazy moment. And then they started with a rousing chorus of One Love by Bob Marley.
Baaba Maal left the stage before U2 continued with a semi acoustic version of Vertigo. Chris Blackwell is in the room looking happy with the preceedings and gets a shout out from Bono.
Chris once said to me "all of this can be yours, all of this can be yours... Just give me what I want and no one gets hurt."
They throw in a few lyrics of peace train for good measure... And then its half time
Bono later appeared on stage to introduce and welcome Yusuf Islam
More info and photo's
here
Photo Credit : UrbanImage.tv/Adrian Boot