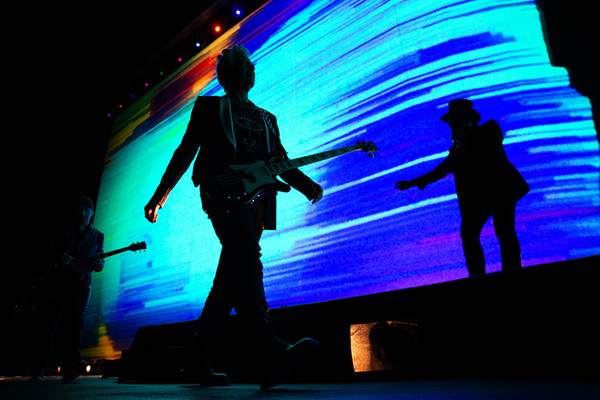 'Thank you Australia..'
'Thank you, Australia, thank you, Sydney for letting us back into your lives… was just thinking today how it's been 35 years since we've been coming here… and never once has it felt like a day's work.'
From 'Sunday Bloody Sunday' to 'One', another epic night of rock'n'roll at the Sydney Cricket Ground. Thirty years after Lovetown was here, 'Desire' makes a tour debut and 'Stuck In A Moment' is back in for a second night.
'Bad' is becoming one of those moments on this tour, every night a surprise as to what unexpected song the band will find inside it. Tonight it was 'Waltzing Matilda'. Last night - check out the video - it was all about Michael Hutchence and INXS's 'Never Tear Us Apart'.
IN THE SETLIST
Tour debut for 'Desire' - last outing was at the final show of the North American leg of the eXPERIENCE + iNNOCENCE Tour in July 2018 and 30 years since it's debut here in Australia on the Lovetown Tour way back in 1989. Also a return to the set (after a quick impromptu guitar change by Edge) for 'You're The Best Thing About Me, last heard on night 2 of the Auckland shows earlier this month.
ON THE FANSITES
Remy & his team from fan site @U2Start are doing a grand job chatting with other fans post-show, catching the vibes fresh in the memory - here were some departing thoughts from fans from tonight's show :
'An electric guitar version of You're The Best Thing… really really really nice'
'This could be the last time for years…. anyone who follows them wonders when the next time its gonna happen… a little sadness (on that)
"Do you have any voice left Dave" asks Remy? 'Once a jolly swagman…' sings Dave. a local by the sound of it, who goes on to tell the story of Waltzing Matilda…. Check out the full broadcast here :
ON THE SOCIALS
@bethandbono: Been infatuated with Australia since I met a bunch of Aussies in 2000 on a 3-week bus tour of Europe. Waltzing Matilda (to which I proudly know all the lyrics) during Bad just made my last two decades.
@dundalkfcsydney: another amazing night in your presence. 32 years ago I got to see you for the first time in Croke Park. Tonight it was the SCG and my 9yo daughter's first time at a U2 gig. Hoping we can do another one soon.
@DartMining: Great to hear Bono giving an unexpected shout-out to the Mining community at the U2 concert in Sydney tonight
@BBardotforever: Soooo excited to see U2 in Sydney tonight!! Hadn't seen them since Rattle n Hum back in the day. You can see how darn excited our crew were: Oscar-worthy excitement!
WHAT (ELSE) DID BONO SAY
'last night we had one of those epic nights of rock'n'roll…. but we were just warming up… and so were you, isn't that right? Let's see where we can take this night"
"this is a wild and extraordinary landscape like no other, but you are and always have been fearless people"
'Can I introduce to you the GREATEST rock and roll band… that would have me as a singer…' (and he did just that - can you guess who is who?)
'U2's very first concert promoter, hosting our very first show in his kitchen on the north side of Dublin'
'the teenage streaker, now wisdom seeker'
'the indefinite article… he comes from the future, and he says its better'
"We don't know when we will next all be together, so I just want to say, thank you for being so supportive of our band, listening to me bang on and on, we don't take this relationship for granted."
AND ALSO
A shoutout to Desire & Angel Of Harlem Video Director Richard Lowenstein's film Mystify about INXS - Bono called it 'a great gift to Michael Hutchence's friends, and also to those who did not know him'. (Richard also appeared at the fan-organised 'U2Conference' held in Sydney earlier in the week.: http://u2conference.com/u2con2019/ )
Here's the complete set list and if you were at the SCG tonight, tell us all about it.