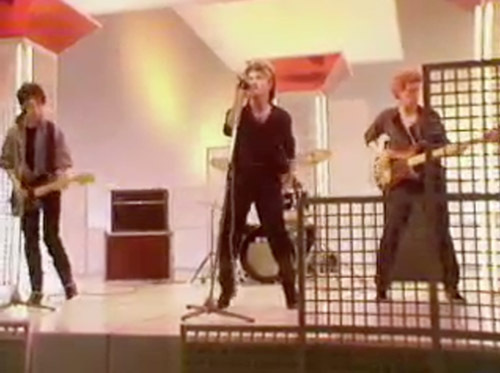 'We knew there was something special there,' recalled Larry. 'We felt we'd finished the songs and done as much on the album as we could possibly do.'
Opening with Sunday Bloody Sunday and closing with "40", it was, said Bono at the time, 'A slap in the face against the snap, crackle and pop'.
'War'
, the band's third studio album, was released in February 1983. It was U2 at their most rhythmic said Adrian Thrills in the NME. '
Their sound is rooted in drummer Larry Mullen's shuddering tub-thumping and bassist Adam Clayton's bewildering percussive patterns. Guitarist the Edge is less dominant than before, the traditional solos of the axe hero superceded by intuitive excursions in tonality and harmonics that put an eerie veneer over the rock solid foundations.'
J D Considine in Rolling Stone concluded that the songs
'stand up against anything on The Clash's London Calling in terms of sheer impact, and the fact that U2 can sweep the listener up in the same sort of enthusiastic romanticism that fuels the band's grand gestures is an impressive feat.'
Tracks like
New Year's Day
and
Sunday Bloody Sunday
came to define the band's sound for millions and remain live standards today... but can you remember the second single release, Two Hearts Beat As One, performed in this clip on a TV show deep in the heart of the 1980's?
What is it you love about War? Was it a beginning or an ending for U2? How would you recommend the album to a teenage or twenty-something fan who wasn't born when it came out? Complete the following sentence:
'If you like War by U2 you'll also like...'
Add your comments below.
If you can do clever and profound along with concise, post your review of War in less than 140 characters. We'll retweet the best from our @u2com twitter account. #U2WAR30
@u2fanlife New Year's Day + Sunday Bloody Sunday = #U2War The best phrase. Bono: "No more! No More!" #U2WAR30
@maxtsukino And they're doing the atomic bomb / Do they know where the dance comes from? #U2WAR30
@danicr1 It has something special. Something that can't be explained. Rage. Non-conformism. Love. It was an ending and a beginning for U2. #U2WAR30