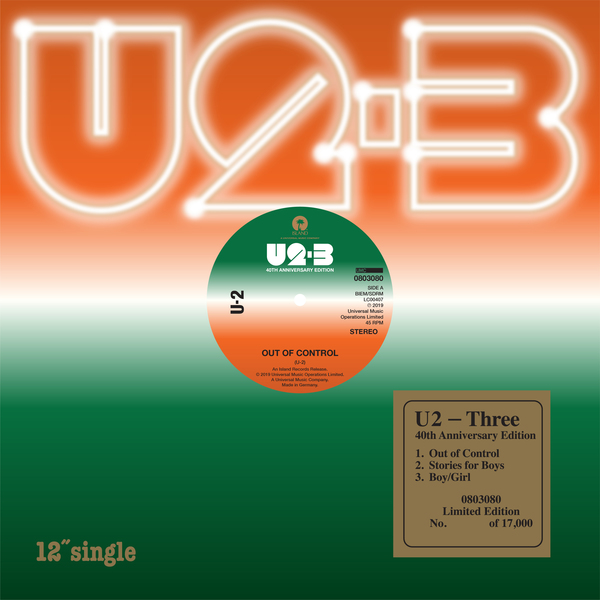 'Three' at Forty for Record Store Day
Originally released in Ireland in September 1979, next month the 'Three' EP returns - now remastered as a limited edition 12" black vinyl to mark Record Store Day.
The EP features three songs recorded at Windmill Lane Studios in Dublin with producer Chas De Whalley – 'Out Of Control', 'Stories For Boys' and 'Boy-Girl'.
The A-side was chosen via a listener poll on Dave Fanning's RTÉ music show. All songs have been remastered for this reissue.
- Numbered release, limited edition of 17,000
- 12" single on 180gsm black vinyl, cut at 45 rpm
- Full colour outer sleeve featuring new artwork, with die cut hole for label
- 40th anniversary noted on discs labels and sticker
The 12" vinyl is released on 29th November 2019 via independent retailers. For details of participating record stores visit www.recordstoreday.com.
Tracklist:
Side A
1. Out Of Control – 2019 remaster
Side B
1. Stories For Boys – 2019 remaster
2. Boy-Girl – 2019 remaster