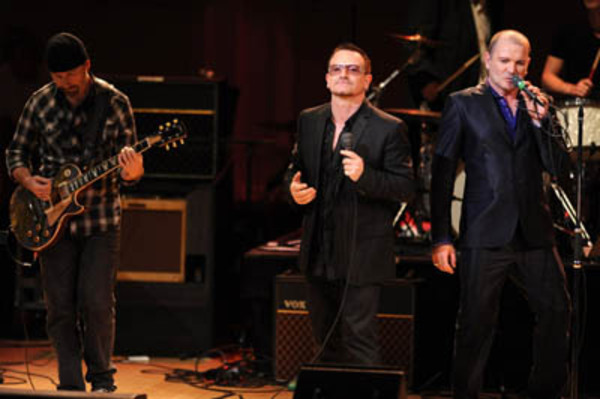 Rolling Stone
was suitably wowed by Sunday's show which it reports was 'curated with eclectic bravura by Hal Willner' and turned into 'a riotous three-hour party, with a to-hell-with-genre rollcall of the many friends Friday has made in his art-rock pop-art film-score and noir-theater travels.'
And the members of U2 were all over the show: 'Bono the Edge, Adam Clayton and Larry Mullen Jr. were on and off stage half a dozen times; U2's Friday covers included 'I Want to Live' (done with techno drive and Joshua Tree-like space) and the crusted-glam bomb 'King of Trash.' Bono also took a solo spot, turning on his Irish Sinatra for the Shag Tobacco elegy 'The Last Song I'll Ever Sing.'
Jon Pareles in the
New York Times
found 'the concert juxtaposed delicacy and brute force, intimacy and irony. It had tender moments, like Mr. Friday's opening 'Apologia'; duets with Antony Hegarty (of Antony and the Johnsons) on 'He Got What He Wanted' and 'Angel'; and Mr. Friday's desolate 'You Take Away the Sun,' with the shimmering backup of Bill Frisell on guitar, Hank Roberts on cello and Mr. Seezer on piano.
'Martha Wainwright gave a luminous performance of 'You Made Me the Thief of Your Heart,' a ballad steeped in Irish tradition that was written by Mr. Friday, Mr. Seezer and Bono; Andrea Corr, of the Irish pop group the Corrs, was poised and gentle in 'Time Enough for Tears.'
Spinner
said the show was 'a dream for fans as the hallowed hall saw incredible pairings, performances and different sides of well-known artists.
'Early in the night, after Friday and Courtney Love rocked their way through a steamy cover of Magazine's 'The Light Pours Out of Me,' Friday said, 'Only one thing can follow that,' and brought out Scarlett Johansson and Rufus Wainwright. That one-upmanship kept going until the end of the night, when after a magnificent solo turn by Bono, Laurie Anderson and Lou Reed came out to join Friday, the Edge and Bono for a raucous post-modern 'Sweet Jane.' How do you improve on that?'