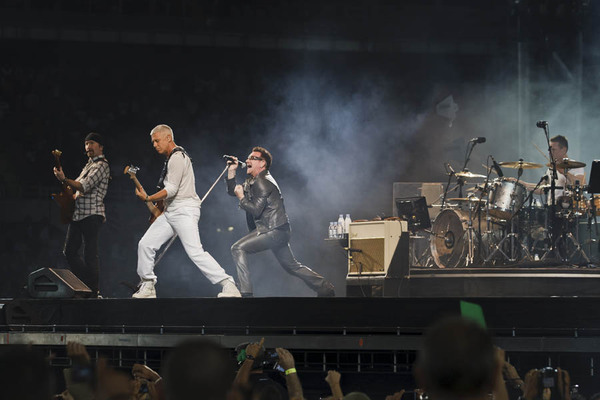 Arriving on stage to a new instrumental track titled 'Return of the Stingray Guitar', straightaway Bono was pacing the perimiter ring of the huge 360 production, serenading every corner of the audience: '
Torino, Torino...
'
And from the unmistakeable opening chords of
Beautiful Day
to the closing benediction of 'Moment of Surrender', two and a quarter hours later, this capacity Italian crowd powered the show into orbit.
Mixing up the set list with tracks from eight different albums, the band also gave a debut to two more new songs: 'Glastonbury' a driving, guitar-led rock number inspired by the UK summer festival, and the meditative, acoustic ballad, 'North Star', described by Bono as ' a love song to the universe'.
Any U2 show is a celebration but this was a special night with the band back on stage and playing live for the first time in nine months. It was a bit of a family occasion.
'You care a lot about family in Italy, right?' asked Bono. 'This band is also a family: the black sheep of the family, Adam Clayton on bass guitar; on the drums, the baby of the band, Larry Mullen Jnr; and The Edge, our middle child... it's his birthday on Sunday.'
Cue 40,000 Italians singing
Happy Birthday
to Edge.
'And I'm the prodigal son,' continued Bono. 'And I want to thank you for all the love and letters you've sent me in recent months, thanks for that. That's in the past now and I'm very much fit for the future...'
It was a seriously fit performance from band and production tonight, with a dazzling creative makeover in the on-screen visuals complementing the surprises in the set list which also included the rarely performed 'Hold Me Thrill Me Kiss Me Kill Me', from the Batman Forever movie, and 'Miss Sarajevo', originally written for, and performed with, Luciano Pavarotti. No-one sings opera like these people.
That's a few highlights from us but how was it for you ?
Were you at the show tonight? Tell us your highlights on our
Tour Pages
- and upload your photos.
If you weren't there, check out more photos, video and the full set list - and tell us what you think.
U2 are back on the road - and we're going to be rolling with them to every show.