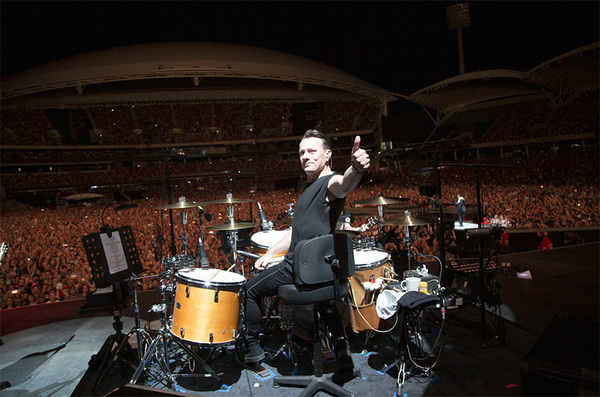 Tripping Through Your Wires in Adelaide
Hottest night so far with the fifth show of #TheJoshuaTreeTour2019.
A balmy evening after a sweltering day and one great show at the Oval in Adelaide tonight. Once again lots of love going out to the heroic women and men working to keep Australia safe in the face of unprecedented fires.
Earlier in the day, taking off from Melbourne for Adelaide, the band met with a hundred or so firefighters, posting their thanks online: 'To all the firefighters working so hard across Australia - we salute you.'
Also tonight, as the screen turned green, white and orange for the start of Trip Through Your Wires, we learned from Larry that the Irish did not invent country music (apparently it was an Australian, name of Keith Urban) and from Adam that the Irish did invent the ejector seat (James Martin from Country Down) and from Edge that they also invented the helicopter (Louis Brennan in 1884)… and from Bono… that they didn't invent the harmonica.
IN THE PRESS
Nathan Davies in the Adelaide Advertiser.
​'This was, despite the giant tele, a restrained show. No pyrotechnics, not extended solos, not even much banter – all things that bands who've been around for more than 40 years often use to disguise the fact that they might not sound as good as they used to. The music did the talking. U2 is a band that has found itself the target of cynical barbs thrown by jaded critics and the cool crowd. Bono's outspoken activism, the Apple Music stunt that saw an undeletable record installed on people's phones and other incidents over the years have all seen plenty of shade aimed their way.At their core, however, they're four guys who figured out how to create a truly unique sound and wrote some incredible songs, and that's something worth celebrating….'
ON THE FANSITES
'Macphisto' for 'U2gigs :
Today, U2 performed in Adelaide for the first time since 16 November 2006. U2 have not been regular visitors to the city of churches: not only is this show almost 13 years to the day since their last visit, but that show was 13 years to the day precisely since the one before that, on 16 November 1993. I Will Follow remained in the setlist after its tour debut in Melbourne. Bad, however, was dropped from the set today. Out of the 55 shows played to date across the Joshua Tree Tours of 2017 and 2019, this show is just the seventh to not feature Bad. The only tour on which U2 have performed Bad in Adelaide remains Lovetown, when it appeared at both gigs on 27 and 28 Ocrtober 1989. Instead of using Bad to thank Australia's firefighters for their recent heroic efforts, Bono gave them a shout-out in Pride. Running to Stand Still was slightly extended today, ending with a few hallelujahs not unlike the ZooTV version. The outro of Beautiful Day again featured a shout-out to Beehrouz Boochani. In I Still Haven't Found, Bono followed his usual call of "take us to church!" with a mention of Adelaide's nickname of "the city of churches" (it is worth noting here that the nickname first emerged in reference to the diversity of faiths practiced in Adelaide, not the number of sacred buildings). Before Trip Through Your Wires, Bono did his lengthiest chat with the band yet, reprising the theme of Irish inventions that he first raised in Brisbane. All band members featured in this conversation, with Larry talking at length about flavoured potato chips.'
ON THE SOCIALS
On Facebook :
Chris Sedgmen : 'Fantastic concert, my 14 yr old daughter thought it was brilliant . That screen is something else, amazing!!'
Jenny Esots : 'U2 was in full flight. Amazing graphics and epic rendition of their Joshua Tree album. My highlight was One Tree Hill with the dynamite I Will Follow still packing a punch after all these years'.
On Instagram :
amandavashelton : 'No words...just bloody awesome..Red Zone rocked..and you guys are the greatest. I couldn't stop smiling and watching in awe..thank you so much x'
martin.nn : 'Best show yet on the tour, can't wait to Sydney in two days watch for the Swedish flag'
On Twitter :
@U2FAN22 : 'What a show. Thought the band was having a lot of fun tonight in Adelaide'
@atu2 : "That was interesting" - Bono during the intro. Let's just say Edge hit an "interesting" note while playing the intro.
23. Love Is Bigger Than Anything In It's Way
WHAT (ELSE) DID BONO SAY
'Take us to church now… City of Churches… C.mon!' (ISHFWILF)
'How many of us think that our country is God's Country? Surely this comes close…. thank you for making us guests of the nation… thanks for having us!
ON THE ZOOTOPIA BOARDS
'Bgans', (commenting on the @U2 instagram of a Larry thumbs up to Adelaide) : I look at that picture and see a mug of tea... He's in his office. And appears to be having so much fun there.'
Here's the complete set list and if you were at the Adelaide Oval tonight, tell us all about it.