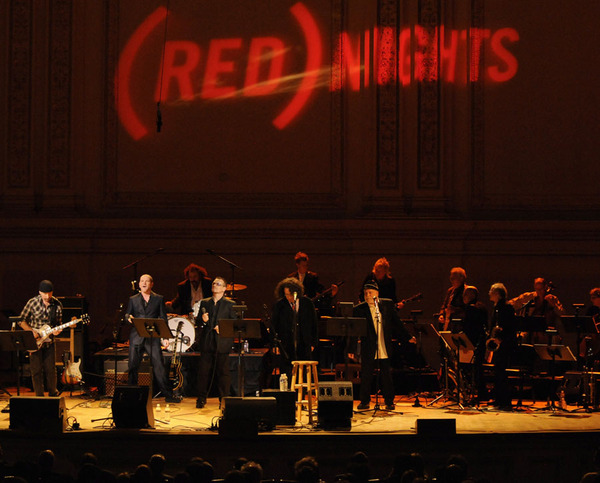 'This could be a very interesting evening...' mused Bono, after joining Flo and Eddie, Edge and Gavin to perform a wonderfully earthy version of the T-Rex classic Children of the Revolution. And as An Evening With Gavin Friday and Friends got underway, it got more and more... interesting.
Larry and Adam arriving for Antony of Antony and the Johnsons to duet with Gavin; Courtney Love describing how she was one of the earliest fans of The Virgin Prunes ( 'I wasn't asked to do this show, I demanded to do this show.' ); The Prunes, she said, were astonishing, and before you knew it, Edge's brother Dik on stage along with Guggi and Gavin.
Martha Wainwright; Maria McKee; Courtney performing with Edge; Scarlett Johansson with Rufus Wainwright. One minute you're transfixed by Eric Mingus, the next Lady Gaga is telling you about a song she has written about falling in love with a man with red hair... More later.
Were you there ? Tell us what you thought of it.