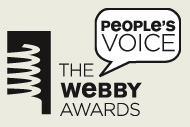 U2.com is one of five sites nominated for 'Best Celebrity/Fan Site' at the 14th Annual Webby Awards - and the votes are now being cast.
There's four other sites nominated alongside us and U2.com is eligible for two awards: The Webby Award and The Webby People's Voice Award. Voting is easy.
Visit the Webby site here.
When you register with a username and password, they instantly send you a link to confirm your account.
Click on that and you're in: look for the Celebrity/Fan category and vote for U2.Com.
We're also really pleased to be an 'Official Honoree' in the Music category - selected from 8,000 entries. The Webby Awards is the leading international award honoring excellence on the Internet and presented by The International Academy of Digital Arts and Sciences.
Here's The Official Nominees List
Here's More Info On The Webby Awards
Voting ends April 29th, 2010.
Thanks for supporting U2.com.