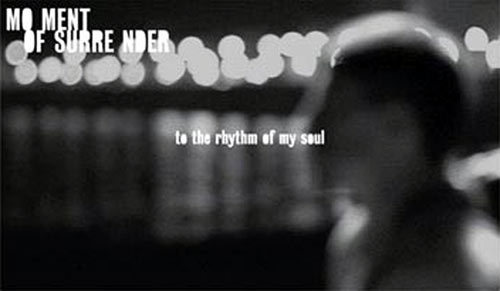 Once any artist has written and recorded a song, it's no longer theirs to keep.
They release it, set it free, turn it over to the audience. Some songs are quietly forgotten; others enter your head, and your heart, and refuse to leave quietly.
But what is it about these songs, exactly?
We asked you to
tell us your own stories about an unforgettable U2 song
- one that stopped you in your tracks, or is forever associated with a particular moment in your life.
We were inundated with responses. You wrote to us about dozens of tracks but some songs just kept coming back, again and again.
So we've used some of your stories along with some other background, to come up with five clues to the question: 'What IS it about that song?'
So...
WHAT IS IT ABOUT... MOMENT OF SURRENDER?
1. It's an epiphany.
On No Line on the Horizon, Bono stopped writing in the 'first person' and was singing from the perspective of different characters. The hero of 'Moment' is an addict, who has a crisis of faith, and an epiphany. 'When I had one drink, I couldn't stop,' writes Frenchwoman2. 'So I quit drinking all together. At the one-year mark I got myself a commemorative bracelet that I had engraved with the Moment of Surrender lyric: 'Vision over Visibility'.' The song's title itself is the term used in Alcoholics Anonymous for when an addict admits their helplessness. 'It's when you know that you can't control anything or anyone,' says Frenchwoman2, 'so you surrender that control. Sometimes you can't see where you're going; but remember the destination, and you'll get there with faith.' Amen.
2. It was the most magical studio experience ever.
At least, it was for Brian Eno. Recording Moment of Surrender is when he and Daniel Lanois thought the band were closest to realising their original concept for the album - to write 'future hymns'. As Eno explained at the time to U2.com, 'It was 'the most magical experience I've ever had in a studio.'
3. It's a great idea for a tattoo.
'My husband has the 360-tour logo tattooed on his back, with the words 'Moment of Surrender',' writes ceesje. 'He's always thinking of his dead mother and father when Bono sings that song.' In the meantime, ceesje admits to having a Stuck in a Moment tattoo, herself. His and hers tattoos, U2 style...
4. The critics loved it.
Rolling Stone
magazine crowned 'Moment of Surrender' the 'Best Song of 2009'. A year later, it made the magazine's '500 Greatest Songs of All Time': 'The most devastating
U2
ballad since 'One' sets lush, gospel-tinged music - much of it improvised live in the studio - against dark subject matter: It's about a junkie riding the subway.'
5. You can fall in love to it.
'This track reminds me of a very, very special moment that took place during the 360 tour in Mexico City,' writes AleMorando. 'I went to that concert with my best friend Juan José... Bono started to sing 'Moment of Surrender',' she continues, 'and in a magic moment, all of a sudden we held each other in a big hug, surrounded by the lights of the cellphones like a million stars.'
And ..?
'And that's when I fell in love with Juan José,' she declares. 'Thanks, U2.'
No, thank you, AleMorando.
So what is it about Moment of Surrender for
you
? Add your own stories, ideas and comments below.