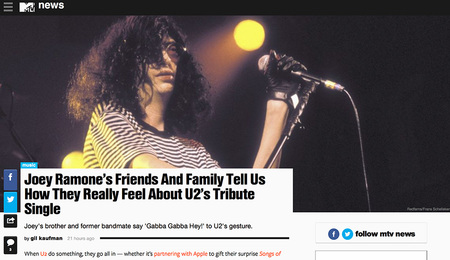 'I woke up at the moment when the miracle occurred/
Heard a song that made some sense out of the world/
Everything I ever lost now has been returned/
The most beautiful sound I ever heard....'
'The Miracle (Of Joey Ramone)' opens 'Songs of Innocence' and in the sleeve notes, Bono recalls how the fledgling U2 first saw the band that inspired the song.
'I couldn't sing with any of the jagged edges of the great rock or punk rock singers,' he writes. 'I sang like a girl....that felt uncomfortable until the Ramones happened to me as they must happen to everyone.'
In 1977 Larry, 14, Edge, 15, Adam and Bono, both 16, went to see the Ramones play in the state cinema in Dublin. 'We had no tickets and no money... My best friend Guggi had a ticket and he snuck us through a side exit he pried open. The world stopped long enough for us to get on it. Even though we only saw half the show, it became one of the great nights of our life....'
'After the Ramones,' writes Bono, 'I could try and be myself as a singer. I just needed to find out who that was...'
Now
Gil Kaufman for MTV News,
has spoken to friends and family of Joey Ramone to get their response - here's some highlights.
Mickey Leigh, Joey's Brother
: 'I'm not sure grateful is the right word, but awestruck is a better description...
'...it's so beautiful. I loved it. It's Bono's interpretation and his spirit, but it also captures Joey's spirit. He described my brother's spirit well. I think he got just what Joey would have wanted out of it.'
Marky Ramone, Longtime Ramones Drummer:
'I'm very grateful U2 wrote a song about my former friend and bandmate Joey Ramone. Joey would have been honored. It is well-deserved.'
Jesse Malin, Friend of Joey:
'The thing I respect about U2 beyond this song is how they're giving a shout-out to Joey as their inspiration. They're not on a bandwagon of 'now we'll be into the Ramones because they're dead.' He [Joey] got to feel the love and respect from them and this song is coming from truly the right place and I totally back it after seeing how they were with him.'
John Holmstrom, founding editor of Punk Magazine
: 'It's wonderful that the song is getting so much attention. I watched football on Sunday and I saw U2
(in the Apple spot)
and I see all these images of punk rockers all over the commercial. I think it's great because this stuff was never on the radio and any attention it gets is good.'
Read the interviews in full at
MTV News
.
'While the music lives on for new generations to discover, 'I Slept with Joey Ramone' is the enduring portrait of a man who struggled to find his voice and of the brother who loved him....'
Mickey has also written
a powerful memoir about growing up with a brother who became a rock star
. As Bono says on the cover, 'Joey Ramone kick-started my career as a singer...'
See also Bono's
Eulogy in Time Magazine
, following Joey Ramone's death in 2001.